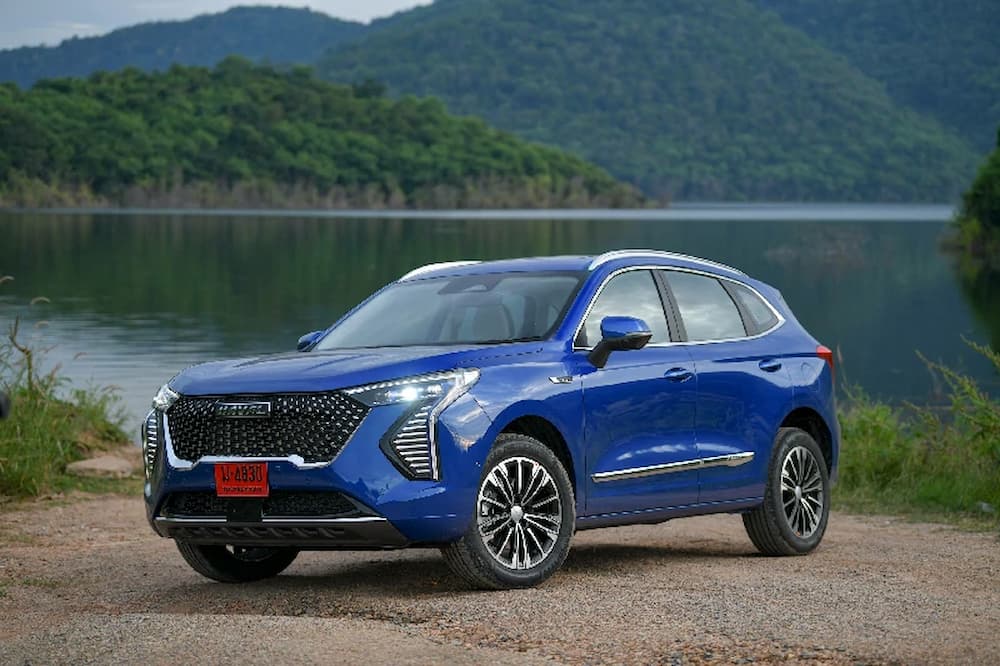 GWM has launched the Haval Jolion (Haval Jolion) hybrid SUV at the end of 2021. This model has received an excellent response. It comes in a premium, luxurious design akin to European cars, enhancing performance with the most advanced technology of the era.
Even if you decide to buy, you can still have second thoughts about whether or not this hybrid vehicle is right for you. How well does it fit lifestyle requirements? And maybe more significantly, will the cost be justified? Everyone will learn about Haval Jolion in-depth through this post.
With full reviews of both the exterior and interior, the price is also attractive. When you finish reading this article, you can be confident that everyone should be able to get answers to all their doubts. Let's see.
Exploring Haval Jolion
For the Haval Jolion, we start the reviews with the overall engine performance and outstanding features of the car, then talk about the exterior design and full features in the interior cabin.
Haval Jolion is an SUV from Great Wall Motor that comes with intelligent hybrid power and saves more fuel. It is also more environmentally friendly than ever, which is a perfect combination between a 1.5-liter petrol engine and an electric motor. Moreover, it has a maximum total power of 190 horsepower and a maximum total torque of 375 Newton-meters, providing good acceleration to overtake with confidence in every situation.

In addition, when talking about Haval Jolion, one more thing that must be reviewed is the safety system, which says it is the most complete in the same class, such as automatic emergency braking on straights and intersections, low-speed emergency braking, forward collision warning, rear collision risk warning, evasive assistance system near large vehicles from the side, a warning system when a car is in a blind spot, a warning system when the car leaves the lane, 3 types of intelligent parking assistance systems, a 360-degree surround view camera, etc.
The Haval Jolion is regarded as a spacious enough family hybrid SUV from the outside, with a design that prioritizes airy comfort. A gray-black Star Matrix front grille with intelligent LED headlights sets off the frontal look. It has a design that flawlessly balances elegance and total comfort with the requirements of sports enthusiasts.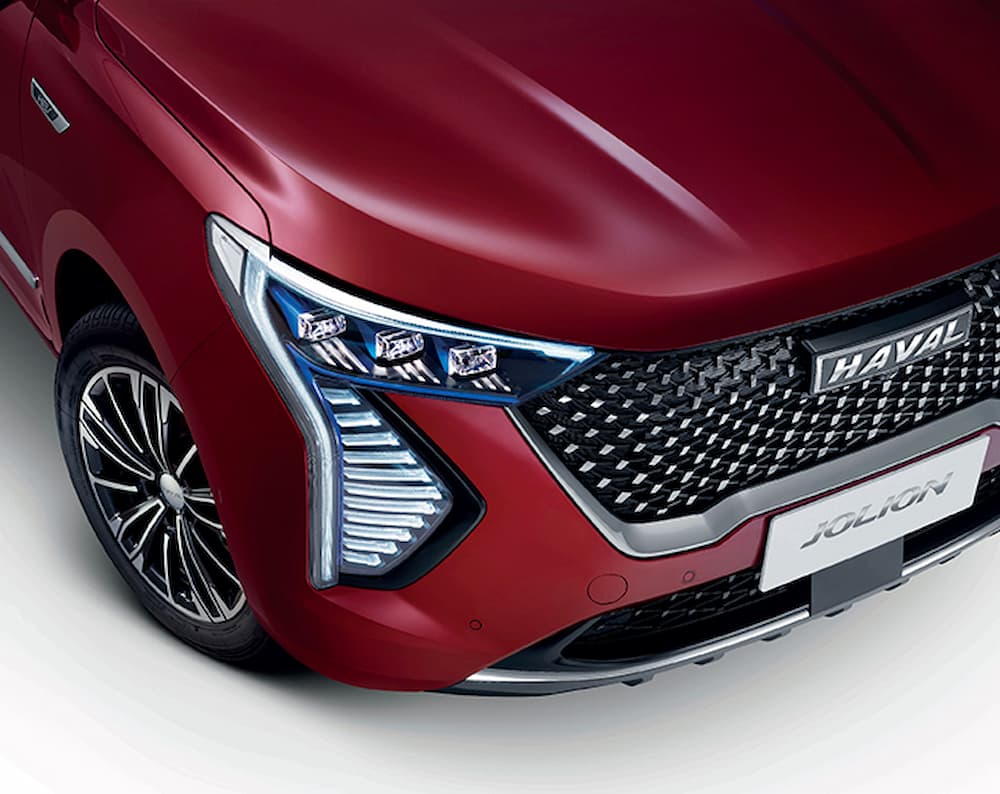 Let's open the door of Haval Jolion to the inside, and only in the first second you immediately experience the atmosphere of elegance with a set of cream-colored seats contrasting with black-gray stripes. In addition, the interior of the cabin, with Rose Gold and Piano Black materials, adds to the atmosphere of luxury and premium. More importantly, the cushions are also designed to focus on softness and comfort, with a leg rest, armrest, cup holder, and rear air conditioning vent. With 2 USB charging ports, the seats can be folded 60:40, increasing the cargo space up to 1,069 liters. It can be said that the Haval Jolion has an interior design that meets all the requirements of true comfort.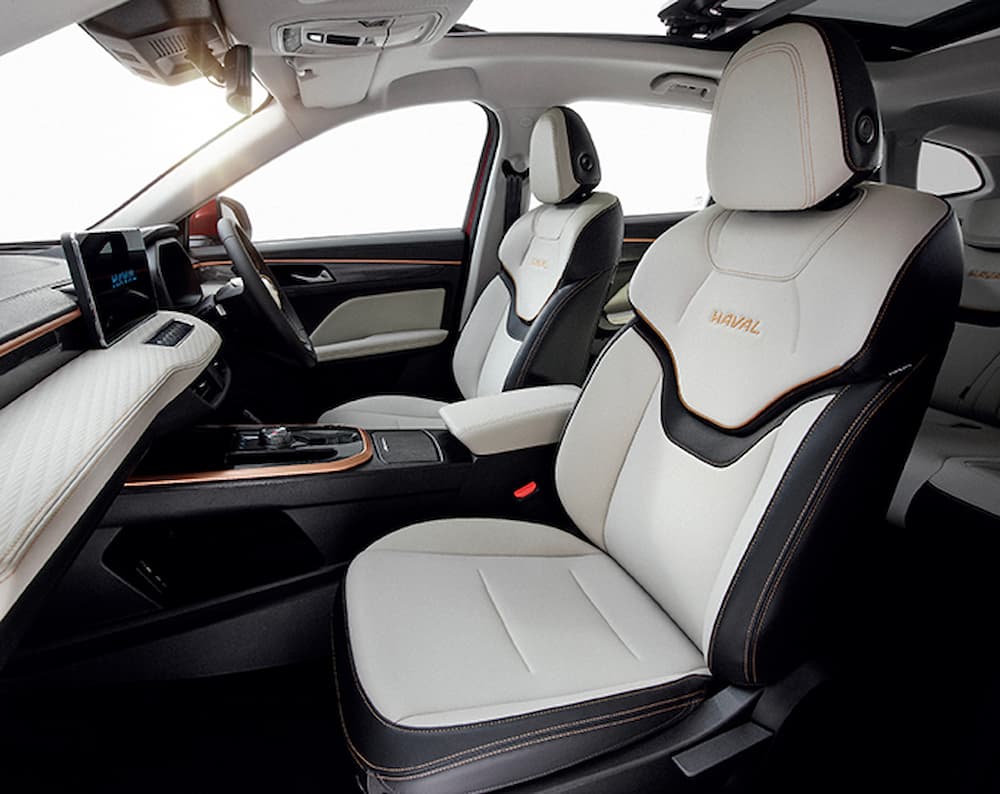 Ending the Haval Jolion with a review of the 12.3-inch screen mounted in the center of the console provides smoother control than ever. It also supports Apple CarPlay and Android Auto connections and the playback of MP3 and JOOX music files.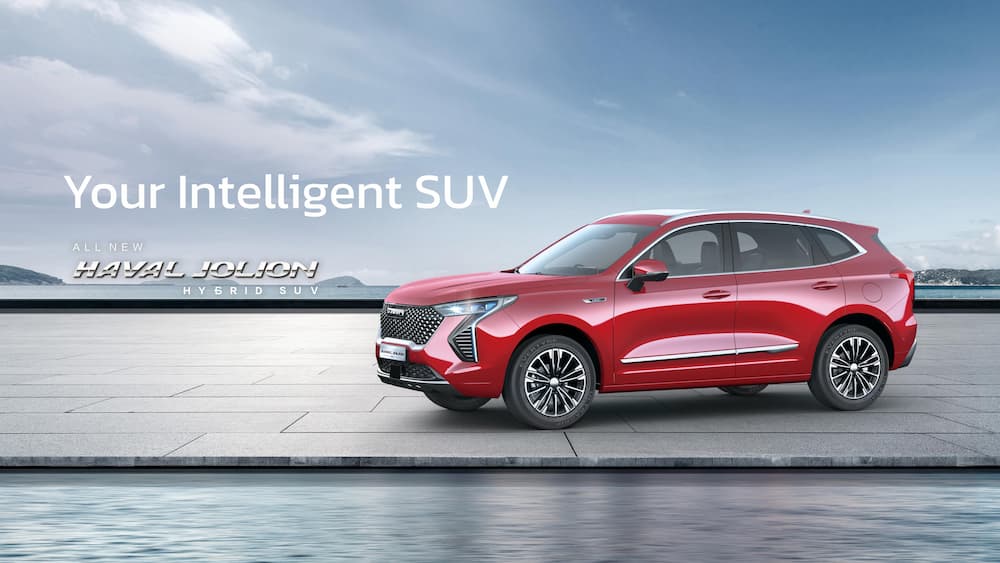 Who does Haval Jolion match?
Engine performance comes in the form of a 1.5-liter hybrid gasoline engine with an electric motor, and being a hybrid SUV, it focuses on a design that combines the perfect combination of elegance and sportiness. The interior space of the cabin is spacious and comfortable to sit in, and with a full safety system, it can be said that the Haval Jolion is suitable for use as a family car. Focusing on the comfort and safety of family members is important, but if you focus on driving alone, there is also no problem, especially if you like the energy efficiency of hybrid engines and their environmental friendliness. Haval Jolion completely meets the requirements.
FAQ
If I often travel upcountry, do I match with Haval Jolion?

Haval Jolion comes with a comfortable cabin interior suitable for long-distance rides. In addition, the engine is an energy-saving hybrid with a state-of-the-art safety system. So, of course, it's suitable for driving out of the country and can provide comfort and safety on every route.
How much does Haval Jolion cost?
Haval Jolion is divided into 2 sub-models, each of which has different prices as follows:
Ultra – 999,000 THB
Sport – 799,000 THB
Test Drive Haval Jolion at GWM Amorn Ratchada
For those who are interested in the Haval Jolion hybrid SUV with great performance and driving smoothly from GWM, you can ask for more information, see real cars, and register for a test drive here at GWM Amorn Ratchada.
For more information, please contact: Sales Department: 025138000 / Service Department: 025138800
Facebook Fanpage : GWM AMORN Ratchada
Line Official : @gwmamornratchada