At the end of 2021, there was big news in the hybrid SUV community when GWM launched the Haval Jolion, which stands out at first glance with its premium European luxury design. But the price is easy to catch. The car comes with a sleek, modern exterior design and excellent engine performance, including the various technologies that are installed. It can be called the most advanced, and it also helps Haval Jolion save fuel effectively as well.
This article explores how the Haval Jolion Hybrid's cutting-edge technology helps to save fuel and reduce consumption. It also answers questions about prices in one place and provides information for deciding whether this hybrid SUV is worth investing in or not.
L.E.M.O.N. PLATFORM, an Intelligent Modular Platform
In terms of technology built into the Haval Jolion, let's start by exploring the L.E.M.O.N. PLATFORM, an intelligent modular platform. The term platform here refers to the vehicle's core structure, including the powertrain and suspension, which are designed to improve overall driving performance by, for example, reducing the vehicle's overall weight. This will improve the car's acceleration even more, help with braking and steering wheel control, and make the steep climb of the Haval Jolion more efficient, which can work in a variety of road conditions. More importantly, it also helps to save even more fuel and is more environmentally friendly than ever.
That's not all; the L.E.M.O.N. PLATFORM is also made of highly durable materials that absorb impact very well. Therefore, driving safety is also increased.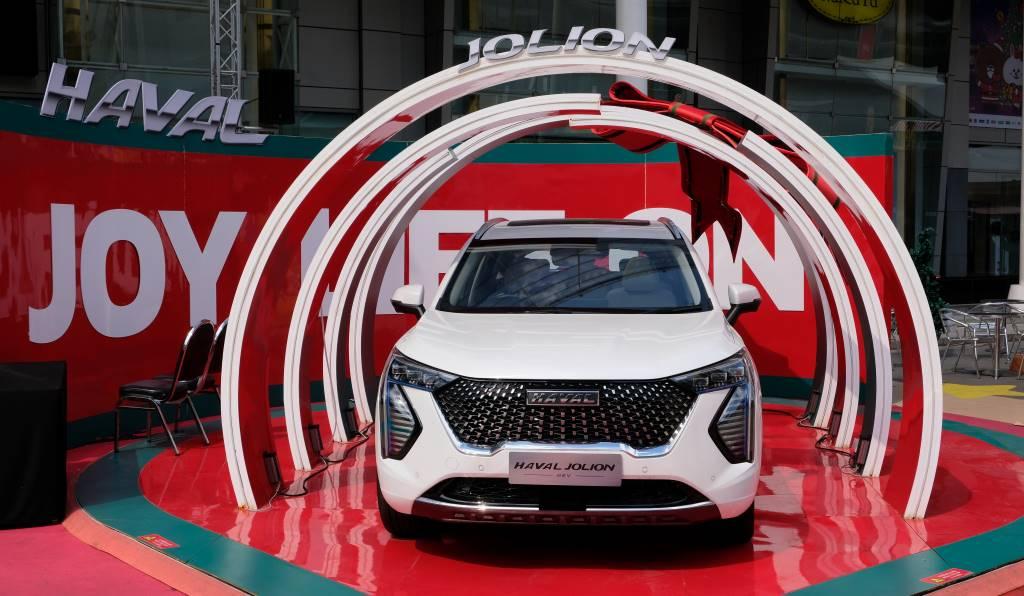 DHT Transmission (Gear System
Another technology that helps the Haval Jolion Hybrid save fuel and reduce consumption is the Dedicated Hybrid Transmission, or DHT, which is a gear set specifically developed for hybrid vehicles. The gearbox will separate the operation between the electric motor and the combustion engine (ICE) into 2 sets: the electric motor side will come with a single-speed gear, and the engine side will come with a 2-speed gear (high-low) for more efficient fuel consumption.
In addition, the DHT gearbox is lightweight, which reduces the total weight of the car. It is equipped with advanced control algorithms that optimize system operation for the smoothest and most seamless driving experience.
How much do I save fuel when driving Haval Jolion?
In addition, a variety of technologies help Haval Jolion save fuel at this point. One of the main reasons why the Haval Jolion is significantly more fuel-efficient compared to conventional SUVs is the smaller engine. The Haval Jolion comes with a 1.5-liter four-cylinder engine with 190 horsepower and a maximum torque of 375 Nm.
Excellent aerodynamics were used in the design of the Haval Jolion's bodywork, hybrid system, and smaller engine. Fuel savings result from reducing the wind's resistance.
With these technologies, engines, and features, the Haval Jolion has a fuel consumption rate of 4.2 liters per 100 km, or 23.8 km per liter, while the standard for SUVs may be less than 20 km per liter, so it can be said that the Haval Jolion is clearly superior in fuel consumption and can help make your fuel cost cheaper. It is a hybrid SUV that truly meets the needs of fuel economy.
How much does Haval Jolion cost?
Haval Jolion is divided into 3 sub-models, each of which has different prices as follows:
Ultra – 999,000 บาท

Sport – Coming Soon
Test Drive Haval Jolion at GWM Amorn Ratchada
A test drive of the Haval Jolion is available at GWM Amorn Ratchada With the advanced fuel-saving technologies mentioned above, if anyone is interested in a Haval Jolion Hybrid SUV with great performance equipped with state-of-the-art technology that will help you drive smoothly, you can ask for more information. see real cars, and register for a test drive here at GWM Amorn Ratchada.
For more information, please contact: Sales Department: 025138000 / Service Department: 025138800
Facebook Fanpage : GWM AMORN Ratchada
Line Official : @gwmamornratchada