Installment Table for HAVAL H6 PHEV

Car Model and Color
Exterior Color: there are 5 colors (Hamilton White, Sun Black, Ayers Gray, Swarovski Blue, Burgundy Red)

Interior Color: 2-tone Black-Gray
Exterior Design
The All New HAVAL H6 PHEV is crafted to perfection and breaks the futuristic design, combining Plug-in HYBRID technology that is more advanced than in its class and enabling EV driving up to 201 kilometers on a single charge (NEDC Standard), creating a new dimension of Plug-in Hybrid cars.
NEW Star Matrix Front Grille Design:

a next level of design adds dimension to look modern and be unique with a large chrome grille and dimensionally gradient air vents.

NEW Electric Tailgate Opening and Closing System:

with a hands-free system makes it easier to open the rear door while carrying things.

Spacious Body Dimensions:

from the front of the automobile to the back of the car, everything is flawlessly structured. The largest car in its class, it comes with a wheelbase of 2,738 mm, body dimensions of 1,886 x 4,683 x 1,730 mm (width x length x height), an independent front suspension system with a stabilizer bar called a MacPherson Strut, and a multi-link independent rear suspension system also with a stabilizer bar. Road traction and pleasant driving are provided to satisfy the requirements of the entire family.

Intelligent LED Headlamps:

outstanding design provides clear Ultra-High Flow brightness for safety on all routes with intelligent systems such as automatic on-off headlights, an automatic high-low beam adjustment system, and a guiding light after turning off the engine (Follow me home).

LED Taillight Strip:

the horizontal design meets both fashion and function. It comes with a modern LED 3rd brake light, clearly visible for safety.

Large Panoramic Sunroof:

1.2 square meters, providing a fresh perspective to view your surroundings in a 360-degree, comes with a rear spoiler and a shark fin antenna to help with aerodynamics.

19-inch Sport-Style Alloy Wheels:

with tires size 235/55 R19, giving them a sleek look and reliable driving on all routes.
Interior Design
All New HAVAL H6 PHEV maintains a minimalist interior design that emphasizes spaciousness, comfort, and attention to every detail with a two-tone front console. Decorated with rose gold, silver, piano black, and chrome materials, giving a modern, futuristic style.
Connection of 3 Screens:

helps to access information easily and accurately.




Intelligent central HD Touch Screen Audio Display, high resolution, size 12.3 inches, full of entertainment, including Apple CarPlay, Android Auto, MP3, JOOX, and Navigator, indicating the Point of Interest location, including restaurants, gas stations, and department stores

10.25-inch high-resolution HD Multi-Information Display

The Head Up Display screen shows driving information on the windshield

Electric Front Seats with Ventilation System:

soft and comfortable touch with excellent quality synthetic leather seats, an ergonomically designed 6-way electrically adjustable driver's seat with electrically adjustable lumbar support to reduce fatigue while driving, and a 4-way electrically adjustable front passenger seat with a button to adjust the position of the front passenger seat from the driver's side.

Rear Passenger Seat with Central Armrest:

another level of comfort with air conditioning vents for rear passengers and USB ports.

Versatile Cabin Space:

very functional, with a large cabin and belonging storage. You can adjust the usable space as needed. The rear passenger seat can be split 60:40 to increase the storage space available.

Automatic Air Conditioning:

separate left and right independently with the PM2.5 air filtration system.

Wireless Charger:

simply put it down to quickly, easily, and comfortably charge your smartphone.

Ambient Light:

beautiful and contributes to the serenity inside the cabin.

Electronic Shifter:

electric gear set, luxury design, with special colors in high gloss style, cool in every driving rhythm.

Smart Key and Push Start System:

opening the door and starting the engine is more convenient and easier.
Engine
The All New HAVAL H6 PHEV is powered by a 1.5-liter Turbo engine that works with an electric motor and DHT gear system to produce a total power of 326 horsepower and a maximum torque of 530 Nm to support the hybrid system when working with the engine to create powerful and fuel-efficient propulsion.

All New HAVAL H6 PHEV can choose between 2 driving systems: a hybrid system and an electric system. Each system comes with four driving modes: standard, sport, economy, and slippery conditions.
Battery
Ternary Lithium Battery:

the battery has a 34 kWh capacity and can travel up to 201 kilometers on a single charge. Refer to the findings of the NEDC Standard (New European Driving Cycle) electric driving range test.

CCS Type 2 combo:

(Combined Charging System): supports direct current (DC) charging and alternating charging (AC).

Charging Duration:


Fast Charging with direct current (DC) (0 – 80%) approximately 35 minutes

Normal Charging with alternating current (AC) (0 – 100%) approximately 6 hours




*Charging time depends on factors such as the remaining battery level, the power of the charging station, etc.
Intelligent Functions
Firmware-Over-The-Air (FOTA):

the system comes with upgradable firmware for powertrain controls, powertrain, intelligent driving systems, infotainment and other control systems inside the car easily.

Voice Command:

has a very good voice recognition ability, which can help reduce the use of pressing buttons. It adds convenience for people, which could reduce the risk of accidents. The driver can command and interact with the voice to use various functions, including access to the entertainment system in the car.

GWM Application:

a system that allows the driver to control and connect the functions of the vehicle even if the driver is at a distance from the car, such as the power status monitoring system, electric battery, electric battery charging status monitoring system, charging management system, air conditioning control, locking and unlocking doors, car search, closing the window, closing the sunroof, controlling the seat, cooling system, car position display, determining the radius of use of the vehicle, and other monitoring systems.
Driver Assistance and Safety Systems
All New HAVAL H6 PHEV comes with advanced technology for you and your family to travel safely and worry-free.
Intelligent Adaptive Cruise Control with Cornering Assistance (Intelligent ACC):

comes with an Advanced Driver Assistance Systems (ADAS) dash camera to help control within the specified full speed range, including pausing and restarting back to the previously set speed. The camera tracks the curvature of the road while the Adaptive Cruise Control (ACC) is engaged. If lowering speed while rounding a turn is important for safety, speed will be automatically lowered. The car will then resume moving at its set speed once the bend has passed.

Traffic Jam Assist:

a speed control system that helps control the car to either follow the car in front or continue driving at a constant speed to minimize driver's effort.

3 ways of Auto Parking – Integration Intelligent Parking (IIP):

use sensors and inspection cameras to find items and lines around the parking area or space. Additionally, it is advantageous to park in a straight line, a line of cars parked side by side, or a diagonal line while it works completely alone. The car will park itself by operating the steering wheel, brakes, and accelerator.

Auto Reversing Assistance (ARA):

the system will record the route and can automatically reverse within 50 meters of the recorded path, while driving under 30 km/h.

Technology for 360-degree Surround Vision:

the system combines all 4 cameras with a resolution of 4 mega-pixels to create a 360-degree image to show the view of the car from a top angle, which works automatically when entering reverse mode. This can be seen when driving at a speed of 15 or 30 kilometers per hour and when starting the car.

Automatic Emergency Braking on Straights and Intersections (AEBI):

  helps detect cars both going straight and at intersections. When there is a risk of a collision, the system sends an audible alarm and automatic braking to avoid collisions or reduce impact.

Rear Cross Traffic Braking (RCTB):

Sensors help monitor the vehicle's rear blind spots on both the left and right sides of the lane while reversing from the parking space. If the driver does not stop the car, there would be an alarm sound and the automatic emergency braking system would be activated to avoid a collision.

Wisdom Dodge System (WDS):

the system will check for large trucks or long cars during overtaking and maintain a reasonable distance between vehicles to avoid collisions, then return to the original lane automatically.

Lane Keep Assistance (LKA):

the system detects road lines and helps to keep the steering wheel in the lane.

Lane Departure Warning (LDW)

: the system detects road lines and helps alert the driver when the car is leaving the lane.

Emergency Lane Keeping (ELK):

the system will intervene more to prevent or lessen collisions if another vehicle is sensed approaching or a passing car is approaching from another lane.

Blind Spot Detection (BSD):

aids in monitoring vehicles in adjacent lanes.

Secondary Collision Mitigation (SCM):

to avoid repeated collisions, the automobile will attempt to maintain stability.

Hill Descent Control (HDC):

use the brakes to help control the speed of the car while driving on steep slopes so that the driver can concentrate on the steering wheel.

Hill Start Assist (HSA):

to avoid reversing when leaving a stopping location on a steep incline, the brake will be held in place for around 2 seconds before the accelerator starts.

Door Open Warning System (DOW):

if the system notices a target that could be hit if the car door is opened after parking, it will sound an alarm.

Tire Pressure Monitoring System (TPMS):

the car continuously monitors the tire pressure and warns the driver if it decreases.

Driver Fatigue Monitor System (DFM):

the system analyzes and evaluates driving traits. It will alert you and suggest a break, if it determines that your driving style is exhausting or after more than 4 hours of driving at speeds greater than 65 kilometers per hour.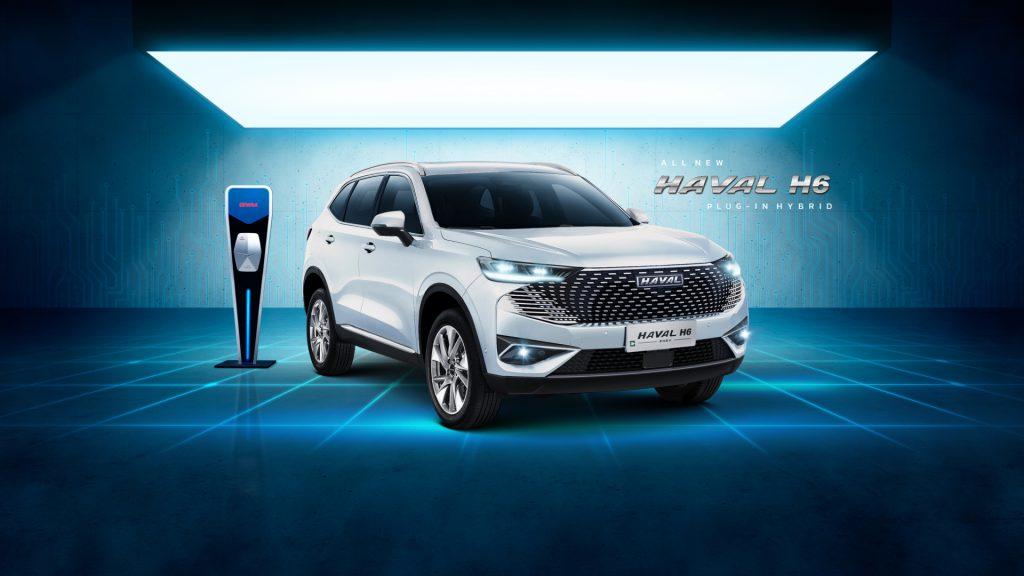 Q&A HAVAL H6 PHEV (Plug-in Hybrid SUV)
Q: Is HAVAL H6 PHEV a hybrid which runs on both gas-fueled and electric/How does it differ from other hybrid cars?
A: The HAVAL H6 PHEV can choose between 2 drive systems: hybrid and electric. Both systems come with four driving modes: standard mode, sport mode, economy mode, and slippery road conditions.
Q: How much horsepower of HAVAL H6 PHEV have and what are its engine specs/capabilities?
A: The HAVAL H6 PHEV is powered by a 1.5-liter Turbo engine that works with an electric motor to produce a maximum total power of 326 horsepower.
Q: Does HAVAL H6 PHEV have a rotary gear or a lever gear?
A: HAVAL H6 PHEV is a rotating gear, which is a DHT transmission designed to support various hybrid car engines. It generates strong propulsion and saves fuel when used in conjunction with the engine.
Q: How wide is HAVAL H6 PHEV display screen in the center?
A: The HAVAL H6 PHEV's 12.3-inch HD Touch Screen Audio Display on the main screen supports Apple CarPlay, Android Auto, MP3, JOOX, and Navigator comfortably.
Q: What color options are there for the HAVAL H6 PHEV?
A: The HAVAL H6 PHEV comes in a total of 5 colors: white, black, gray, blue, and red exterior, with a two-tone black-gray interior.
Q: How long does it take to charge a HAVAL H6 PHEV using an electric system?
A: HAVAL H6 PHEV is divided into 2 types of charging.
1.Fast Charging with direct current (DC) (0 – 80%) approximately 35 minutes 
2.Normal Charging with alternating current (AC) (0 – 100%) approximately 6 hours 
However, charging time depends on factors such as the remaining battery level, the power of the charging station, etc.
Q: What kind of battery does HAVAL H6 PHEV use?
A: The HAVAL H6 PHEV has a ternary lithium battery with a capacity of 34 kWh and a maximum range of 201 kilometers on a single charge, which is the result of the electric driving distance test from the New European Driving Cycle (NEDC Standard), giving the client confidence in the product's high-quality.
Q: What kind of electric charger is HAVAL H6 PHEV?
A: HAVAL H6 PHEV is equipped with a combined charging system (CCS) Type 2 charger, which supports direct current (DC) and alternating current (AC) charging.
Q: Does the HAVAL H6 PHEV have an electric trailgate system?
A: HAVAL H6 PHEV has a hands-free electric tailgate system, which makes it easier to open the rear door while carrying belongings.
Q: Does the HAVAL H6 PHEV's front grille contain chrome?
A: Large front grille in chrome for the HAVAL H6 PHEV; Star Matrix-inspired design offers a modern and unique appearance with level air vents.
Q: Can the color of a HAVAL H6 PHEV be changed after a consumer books one?
A: Before paying the deposit, the customer can modify the reserved color of the HAVAL H6 PHEV that he or she has reserved using the GWM application or website GWM.co.th. Or if the deposit has already been paid, you can contact the GWM Contact Center at 02-668-8888 or a Customer Service Representative (iAM) at the GWM Department Store or Partner Store where the customer booked the vehicle to make corrections. However, the queue for receiving the car must be re-queued according to the color that the customer has changed.