At this time, the electric car, or EV, is a hot trend in the automotive world with environmentally friendly features. It reduces carbon dioxide (CO2) emissions into the atmosphere. This is in line with the main policies of governments around the world that are more serious about this matter. In addition, electric cars have improved their performance by leaps and bounds over the years until their use is almost comparable to that of conventional gasoline vehicles.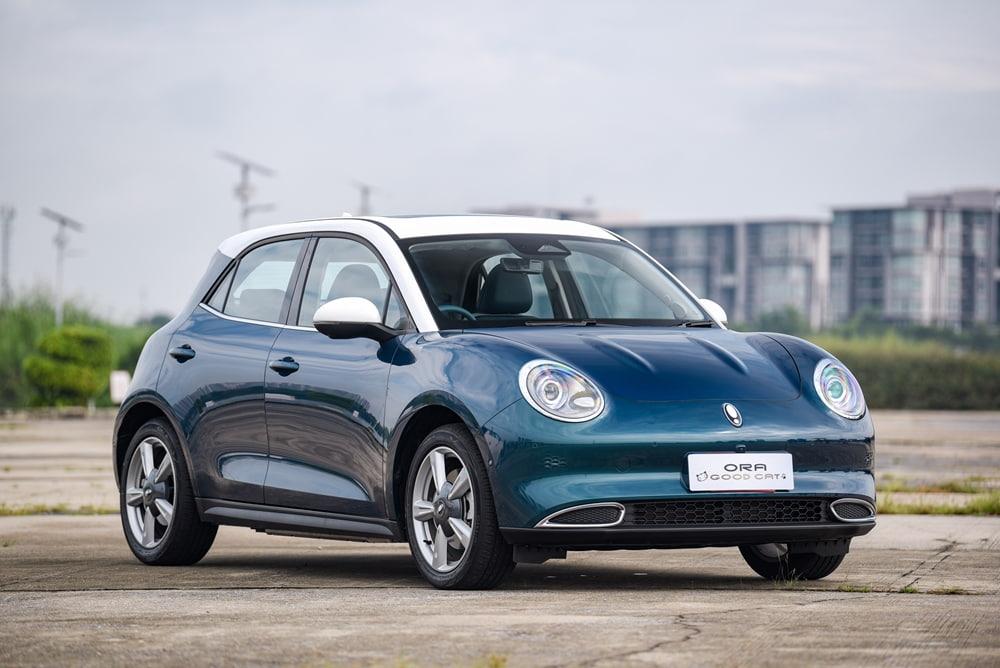 For this reason, it is not uncommon for various automotive manufacturers to produce electric cars for sale in abundance, and one of the most popular models is inevitably the Ora Good Cat 500 Ultra, the top of the ORA Good Cat from Great Wall Motors (GWM), an electric car that stands out with a cute design like a little cat that you can drive; however, its engine specification is fully equipped. In addition, the price is still tangible, which this article will volunteer to review for you.
Motor and propulsion of the ORA Good Cat 500 ULTRA
The ORA Good Cat 500 Ultra uses a Permanent Magnet Synchronous Motor, which has excellent performance. and has high security to provide a maximum horsepower of 143 horsepower, a maximum torque of 210 Nm, and a top speed of almost 160 km/h. It can be said that it is not inferior to gasoline cars at all.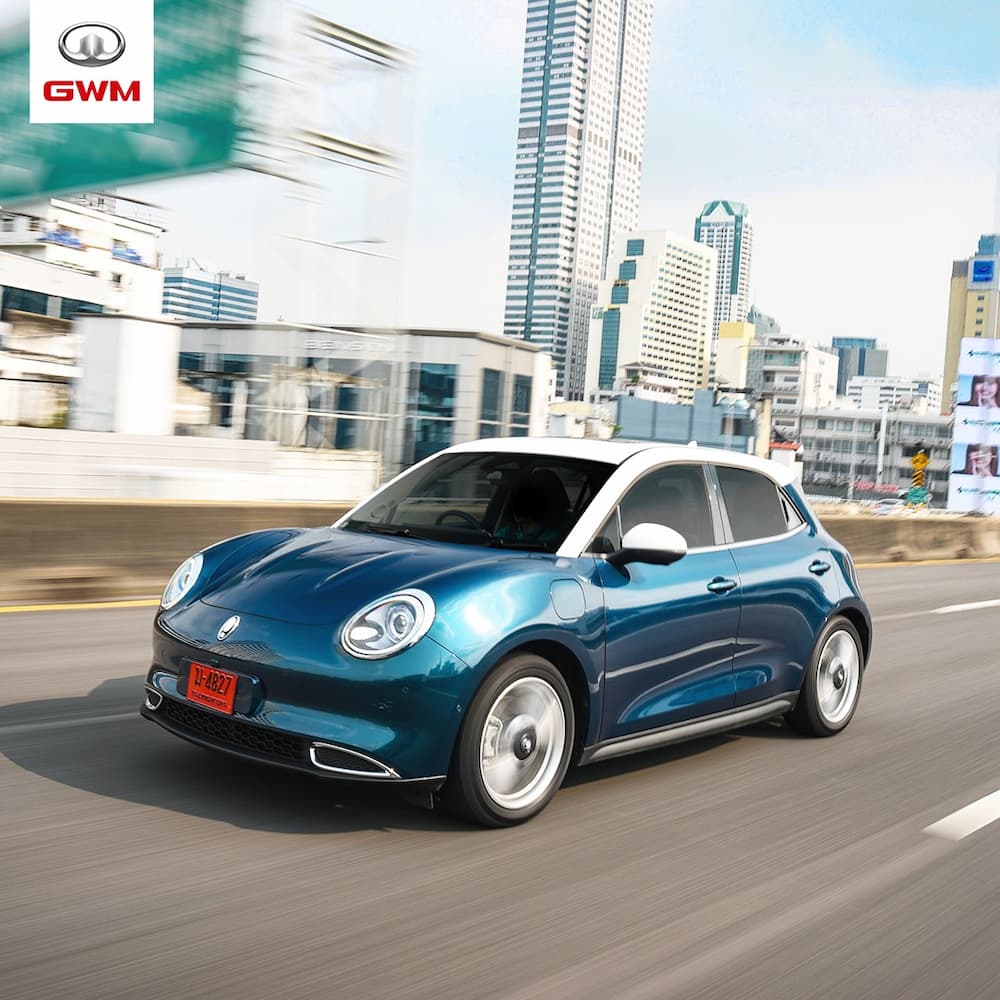 High Performance Battery
The battery is considered a decisive point that every electric car manufacturer pays attention to. Due to the presence of a high-performance battery, it is equivalent to winning the hearts of customers in many parts, which the ORA Good Cat 500 Ultra is also full of in this section.
It uses a lithium ternary (NMC) battery with a capacity of 63.139 kWh, which is considered to have the highest capacity in the same electric vehicle segment.

The battery can support long-distance running up to 500 kilometers, meeting the needs of urban use or traveling on weekends. Whether it's Hua Hin or Pattaya, it's not a problem.

The ORA Good Cat 500 Ultra supports multiple charging options. Direct Current or DC fast charging up to 60 kW, charging from 0–80% takes only 60 minutes, DC fast charging from 30–80% takes 40 minutes, and charging with Alternating Current or AC home from 0–100% takes 10 hours, called overnight charging. When you woke up in the morning, the battery was full. Make use of it without interruption.
Selectable driving modes
To support a wide range of applications, the ORA Good Cat 500 Ultra has 6 driving modes to choose from as appropriate, including
Standard mode supports general city driving.

Sport mode increases the speed even more for long trips or rush hour

Eco mode focuses especially on energy savings

Automatic mode is flexible for a variety of applications.

One Pedal mode and Eco+ mode are special modes that must be set separately in the propulsion system.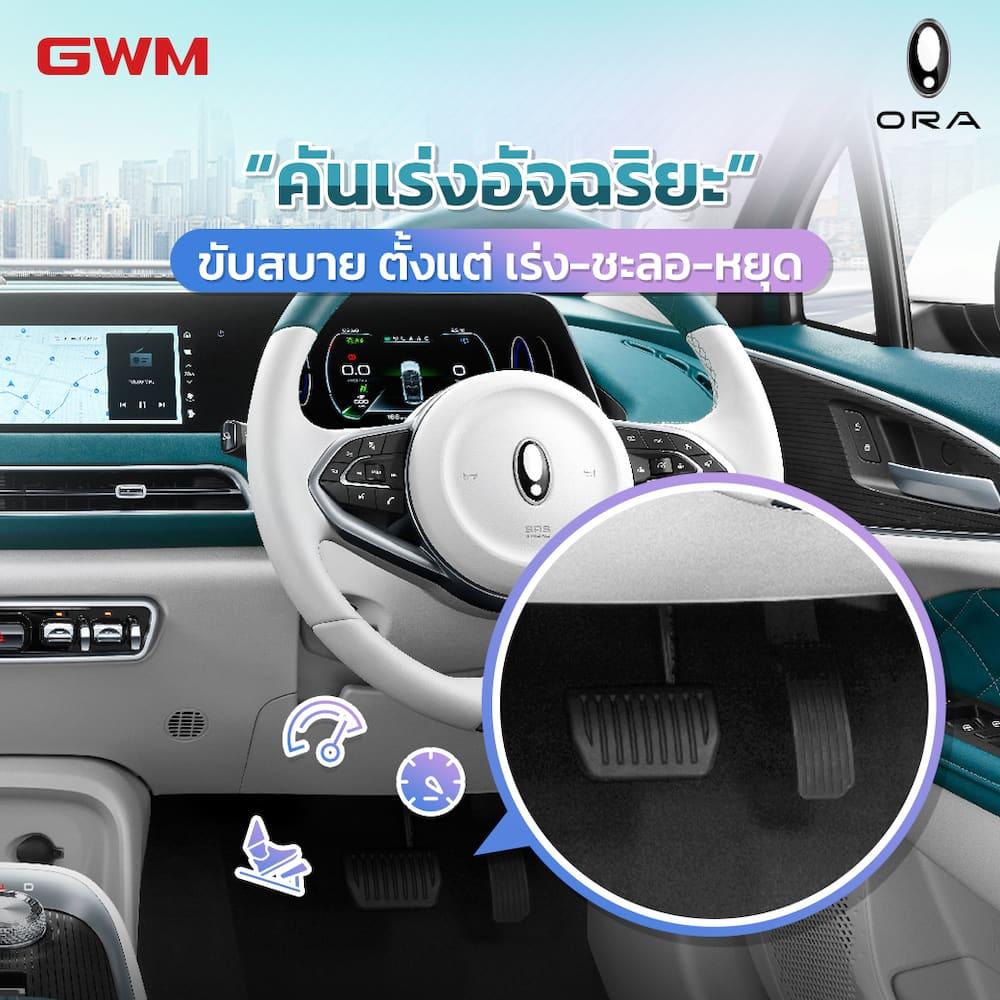 ORA Goodcat 500 Ultra Safety Options
This lovely model's security is neither lacking nor unimportant. On the contrary, it is also completely packed, giving driver's peace of mind that they will arrive at their destination safely without worry. 
Adaptive Cruise Control with Intelligent Turning ensures that no matter how winding the path is, there is no problem.

Auto Emergency Braking assistance on straights and intersections to reduce the risk of unexpected accidents.

Warning system when approaching a large vehicle

3 types of intelligent integration parking systems that will help solve the problem of reversing the car into the parking lot, which is something that many people struggle with.

There are 6 airbags that are ready to help alleviate the impact of an accident.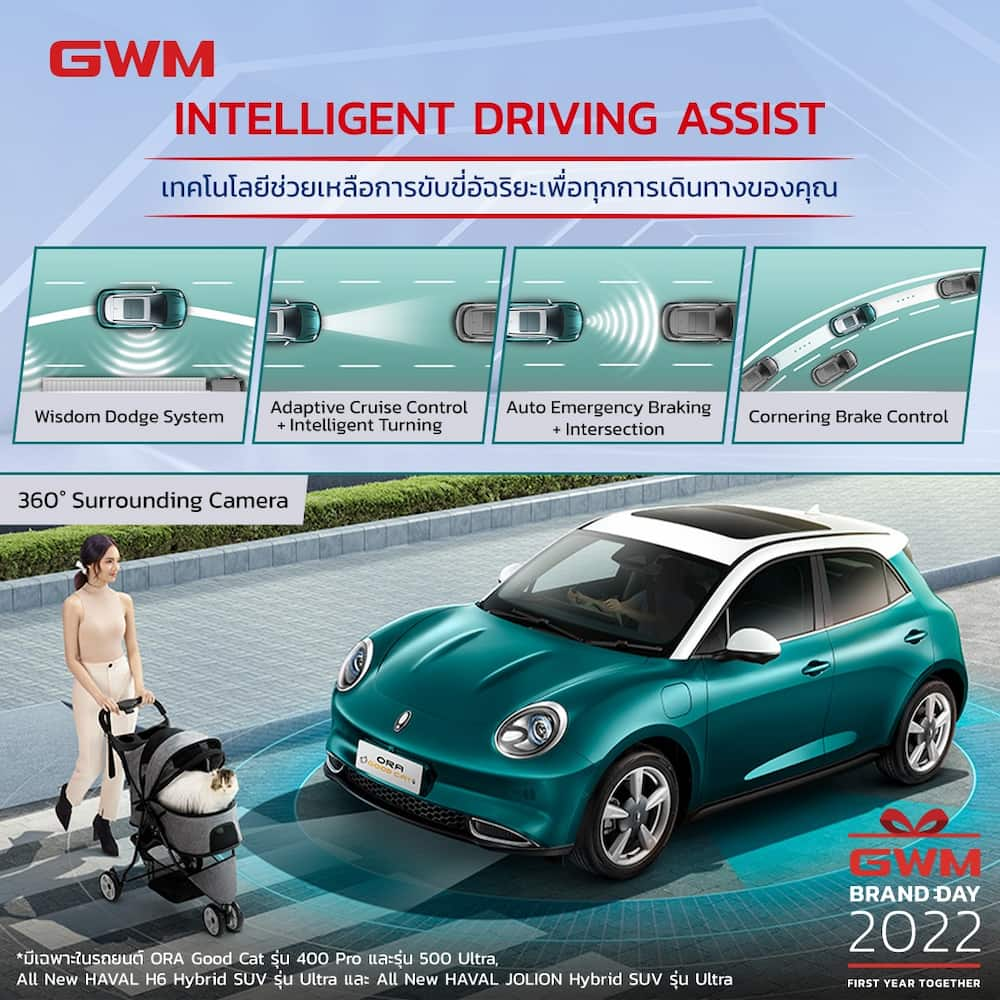 Feeling when driving the ORA Good Cat 500 Ultra
When sitting in the cabin, the first touch that is felt is the airy comfort and wide visibility with a large front glass. completed with a sunroof that helps increase the brightness in the cabin as well, including two-tone interior colors. Therefore, this car looks outstanding and has a unique style.
The power of the 142-horsepower Permanent Magnet Synchronous Motor provides good acceleration and instant response. It is capable of accelerating from 0-100 in 9 seconds and comes with an intelligent One Pedal accelerator mode that makes speed control easy to respond to all applications.
A firm and sporty style of car suspension holds the road in every situation but still maintains softness. The steering wheel can adjust the viscosity to 3 styles, helping to meet all driving directions, whether driving in the city or on winding mountain roads, and feel comfortable without worry.
A full security system warns you of all obstacles on the road. Safe on all routes with 6 high-definition cameras around the car to look around the car clearly, whether it is accelerating, overtaking, changing lanes, or parking, it's comfortable.
If you want to experience the driving experience of the ORA Good Cat 500 Ultra, you can come and test drive the real car at the GWM Amorn Ratchada showroom.
Special privileges when buying the ORA Good Cat 500 Ultra
More than the cute design and great specifications, another factor that will make the decision to buy the ORA Good Cat 500 Ultra now the right decision is the many privileges from GWM Amorn Ratchada that will be received, as listed below, which can be called more than worth it.
Mats

License plate frame

25% down payment, special interest of 1.79% for 48 months

Free first-class insurance for 1 year (Viriya)

Free car warranty for 5 years or 150,000 km.

Free electric motor warranty for 8 years or 180,000 km.

Free GWM home charger ready to install

Earn 15,000 GWM points.

The right to request a car pick-up or delivery service for 4 times

Free 24-hour emergency assistance service for 5 years

GWM PRO SERVICE INCLUSIVE (GPSI) spare parts and labor costs for maintenance according to distance up to 75,000 km (excluding consumable parts such as brake pads, batteries, and wipers)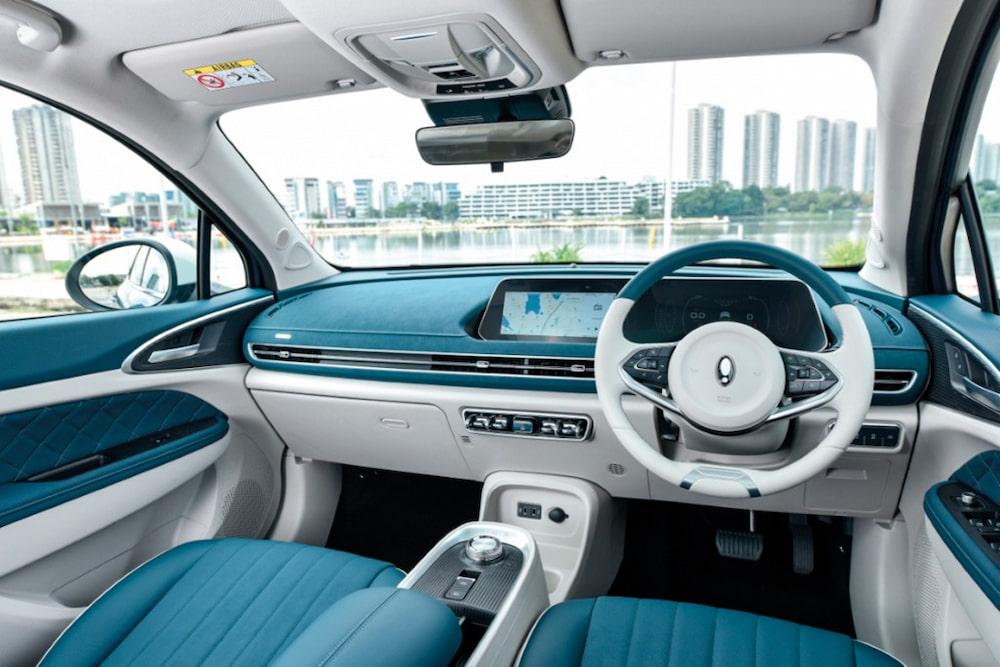 How much is ORA Good Cat 500 Ultra?
Many people read the review completely and would like to know the price of the ORA Good Cat 500 Ultra electric car, which is complete inside and out. Surprisingly, it's not as expensive as you think because it can be reserved as an owner for only 959,000 baht.
There are also three interior colors to choose from: black, gray-green, and brown-beige. Depending on the exterior color of the car, there are 7 colors to choose from: Verdant Green with Hamilton White Roof, Hazel Wood Beige with Wisdom Brown Roof, Mars Red with Black Roof, Hamilton White with Black Roof, Coral Blue, Sun Black, and Hamilton White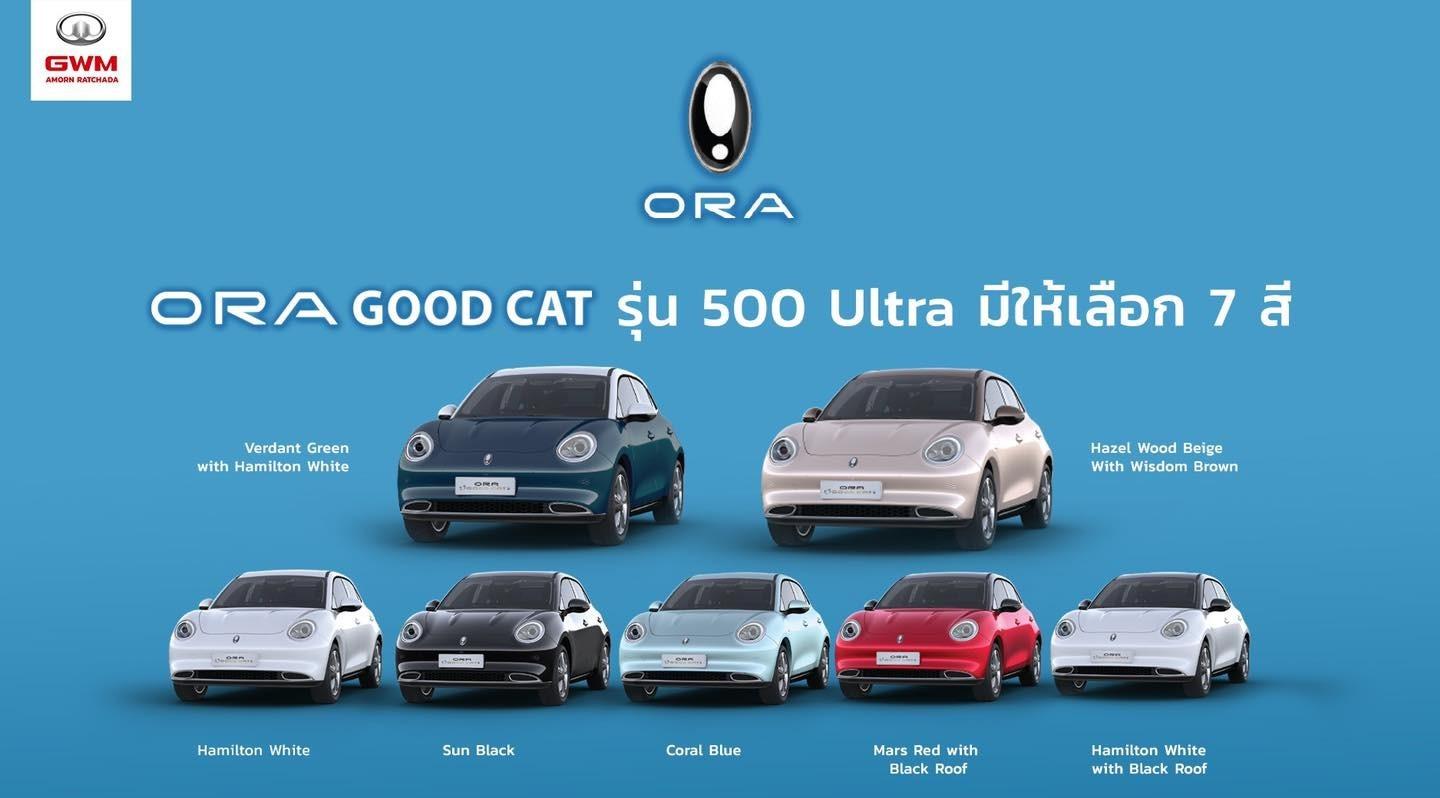 At this point, if you feel that the ORA Good Cat 500 Ultra has an adorable design and great performance to meet the needs of urban use efficiently, it is the right choice. Those who are interested in occupying the car can visit and experience the performance of the car through a test drive service at the GWM Amorn Ratchada.
For those who are interested or want to ask for more information, you can call the Sales Department: 025138000 / Service Department: 025138800