SUV-class cars are popular among families, including teenagers and working people who love versatile cars because there are seats that can accommodate many members with spaciousness. Although the car looks tall and big, it is highly agile and offers a clear and comfortable ride. At present, SUVs that use hybrid engines are becoming more popular because hybrid systems can help save a lot of fuel. The giant car brand GWM has launched a hybrid SUV, the Haval Jolion, which hits the market and is on the list of popular family cars because the top of the line is less than a million baht. However, customers get a car with a sleek design above the level, including the most advanced specification and technology options with excellent driving performance. For anyone interested in this car, you can come in and experience the real Haval Jolion at the GWM Amorn Ratchada showroom. Today we're going to take a look at how many models Haval Jolion has and which models are worth booking.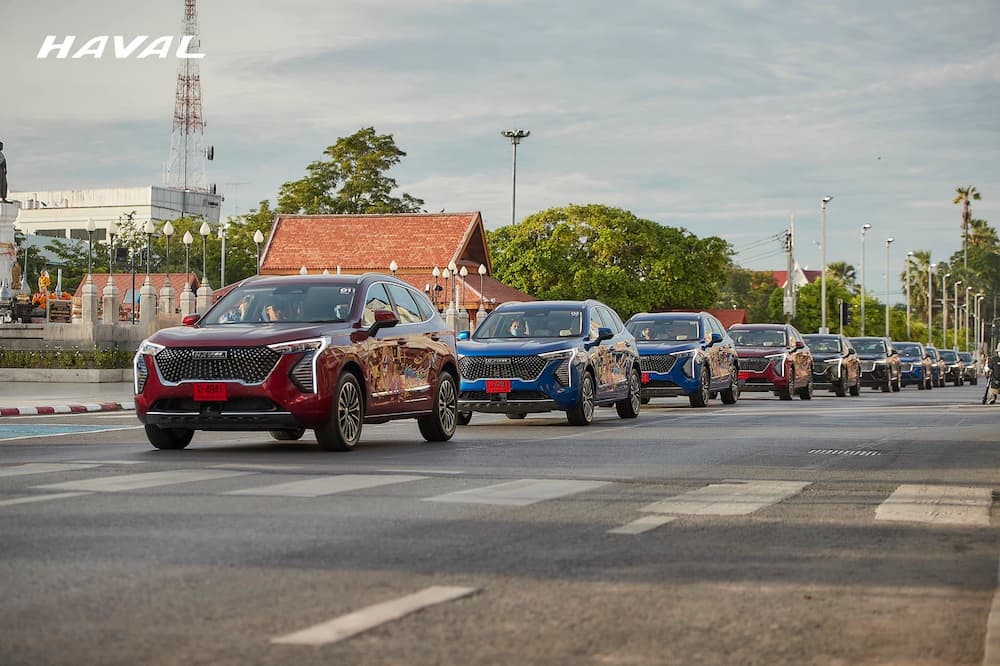 Explore Haval Jolion, a high-tech  hybrid SUV
Haval Jolion Hybrid, the latest SUV from GWM, has a distinctive exterior and modern design. It is powerful with a 1.5-liter turbo petrol engine with direct injection fuel delivery, which works with 2 electric motors, producing a maximum power of 190 horsepower and driving smoothly even when carrying passengers and fully storing, supporting many driving styles, and improving fuel efficiency. More importantly, it has low emissions and is environmentally friendly.
For the exterior appearance, it has been designed to be more stylish and more pleasing to the new generation with the addition of a black-gray Star Matrix front grille and shark fin antenna. With LED headlights, it is complemented by a silver frame, taking a feeling of luxury to another level. With these stylish looks, many people will be pleased and love them. But if anyone wants to know more details about the Haval Jolion Hybrid, how many models will there be? And how are they different? Let's find out.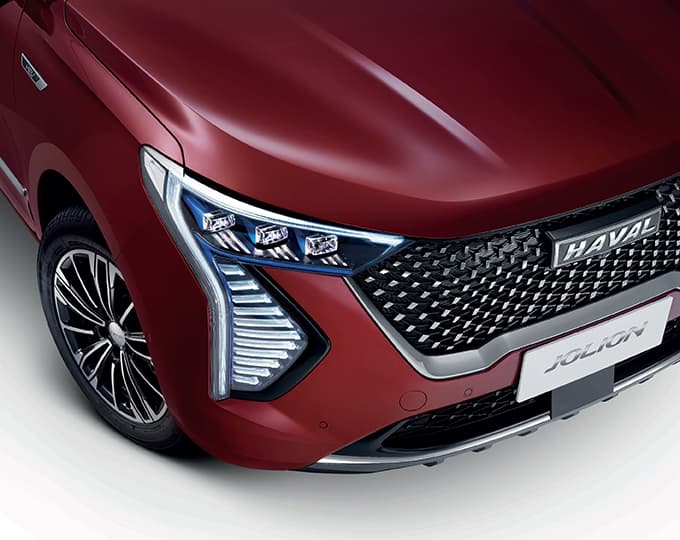 How many models of Haval Jolion Hybrid SUV are there?
For those who are interested in how many models of Haval Jolion there are, now GWM has developed and launched all 3 sub-models, which are Ultra, Pro, and Tech, with a total of 5 colors to choose from and launched at a great value price, which is suitable for being the first car and a regular car at home. Each model has the following details:
Haval Jolion 2022 TECH Model
The TECH model is an entry-level model with special functions that enhance the beauty of the car. First of all, it has LED headlights that can be turned on and off automatically and comes with a Welcome Light system to illuminate before and after the engine is turned off. Next, for the interior, it will be decorated with black materials and silver. Moreover, a seat upholstered in fabric material, including the seat for the driver, can be adjusted high and low, and rear seats that can be split 60:40 In addition, it comes with a 7-inch display for driving information and enhances driving performance with the GWM LEMON PLATFORM.
Haval Jolion 2022 PRO Model
In the PRO model, more special functions have been added. Accessories outside the car, such as side mirrors that fold automatically when locking the car, including the Keyless Access system, also enhance the coolness of the car with style by installing roof rails. For the interior of the cabin, the seats and steering wheel are covered with black leather. In addition, it is also cool and icy all over the car, with the rear air vent helping distribute the coolness throughout. It is also equipped with 6 speakers to increase the clarity of the sound. It also comes with an automatic variable speed control system, Adaptive Cruise Control, to increase driving safety even more.
Haval Jolion 2022 model ULTRA
For the ULTRA model, there will be extra features from the PRO model, including the panoramic sunroof, which can be opened and closed electrically with 18-inch two-tone alloy wheels. For the interior of the cabin, it is colored cool black and white and decorated with rose gold material. The driver's seat can be adjusted in up to 6 directions with the cooling system. There is a display of driving information on the windshield, an auto-dimming rear-view mirror, and the most special is a wireless phone charging system. Furthermore, it comes with innovations that help it drive better than other models, including 3 intelligent parking assistance systems (IIP), a 360-degree surround view camera, a wisdom dodge system (WDS), and many other warning systems that make you feel safe when driving. You can come and experience the ultimate hybrid SUV that is packed with advanced functions, like the Haval Jolion, at the GWM Amorn Ratchada showroom.
Price: 999,000 baht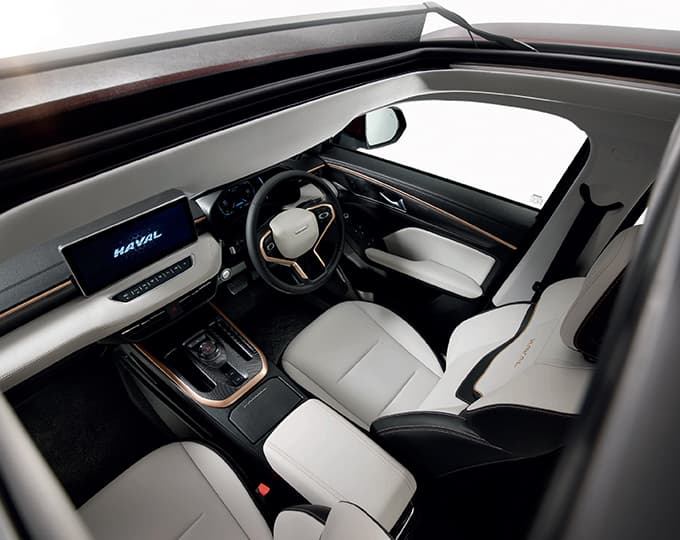 Haval Jolion Security Options
In addition to the initial information about the model of the Haval Jolion Hybrid, one of the specialties of the Haval Jolion that I would like to recommend is the addition of additional driving assistance technology innovations to each model to help facilitate safe driving on every journey. The details are as follows:
Automatic emergency braking system

Warning system when there is a risk of a frontal/rear collision

Wisdom Dodge System (WDS)

Rear cross traffic assistance and braking (RCTA & RCTB)

Warning system when there is a car in the blind spot/ warning system when changing lanes and there are cars in those lanes running from behind

Lane Departure Warning System/ Lane Keeping System/ Emergency Lane Keeping System/ Lane Keep Assistance System

Adaptive Cruise Control (ACC)/ Traffic Jam Assist (TJA)

3 Way of Auto Parking -Integration Intelligent Parking (IIP)

360-degree all-around camera
Special privileges when purchasing Haval Jolion with the Haval Jolion Customer Care campaign
Down payment starting at only 5% or installments up to 84 months, up to 14,000 baht. Terms and conditions apply by participating banks and financial institutions.

Free Lamina window film, model CM ONE, total value up to 8,200 baht

 Free first-class auto insurance is offered for a period of 1 year with a maximum value of 25,000 baht by Viriyah Insurance Public Company Limited, Tokio Marine Insurance (Thailand) Public Company Limited, or Thanachart Insurance Public Company Limited. And terms and conditions are as specified by the company.

Free engine oil with a maximum total value of not more than 2,000 baht

Free spare parts and labor fees for maintenance are according to the distance traveled up to 10 times within 5 years or 100,000 kilometers (whichever comes first). GWM Pro Service Inclusive—GPSI is worth 31,832 baht. Customers must bring their cars in for maintenance every 6 months or 10,000 km (whichever comes first) throughout the exercise period to maintain the vehicle according to the distance and the conditions of the new car warranty.*

Roadside Assistance 24 hours a day, free for 5 years, worth 10,000 baht*

Free right to call for a pickup service or a car delivery service to receive maintenance services by distance or maintenance services by distance off-site (GWM mobile service) for 2 times, total value not exceeding 1,500 baht*

New car quality assurance covers a period of 5 years or a distance of 150,000 kilometers (whichever comes first).
Get an additional new car warranty from 5 years or 150,000 kilometers to 7 years or 190,000 kilometers (whichever comes first) for customers who purchase the HAVAL JOLION within the September 1, 2565, agree to accept the conditions, and sign the acknowledgment that the fuel consumption rate of HAVAL JOLION is caused by the difference between standard test results and actual driving conditions according to the company's book only.
Plug-in hybrid battery warranty for 8 years with an unlimited mileage.

Free license plate frame and GWM mat, total value of 1,450 baht.

Get 15,000 GWM points to redeem gifts and services on GWM Application.
Get to know the GWM application, a companion app that must be installed on the device.
For those who are interested and are about to own a car in the GWM group, besides cars with the most advanced technology, GWM has developed an application called GWM, a trusted app that can be downloaded for free. Let's try it first. It is an app that facilitates vehicle inspection, reservations, transportation, and various other processes, in addition to the details of the Haval Jolion Hybrid, how many models there are, and the price of each model that can be checked. It's also an app built to meet other important information needs, with the following main features:
For those who are interested in Haval Jolion Hybrid cars, how many models are there, and what other special promotions will there be? You can come to see the real car, experience the cutting-edge technology of the future, and test drive it at the GWM Amorn Ratchada, or contact us for more information at 02-513-8000 (Sales).
Detailed information about the car: car information, booking a test drive appointment, and car trading.

One Price: It is a feature that helps calculate the down payment, financing amount, and interest rate with monthly installments as needed in order to be able to plan purchases more conveniently and quickly.

Logistics Transparent: A feature that can track the status of a car that has been booked in detail, from the production process to the map for delivery.

Remote: A convenient feature for the driver that can operate the car remotely, check the location of the car, check the maintenance status, etc.