Great Wall Motors has been dedicated to the research and development of cutting-edge automotive technology to deliver a superior driving experience to consumers for many years as a Global Intelligent Technology Company. Later on, it successfully invented the L.E.M.O.N. DHT intelligent platform, an innovative modular platform that can be adapted to support a wide range of engines, making the car lighter. It can reduce the force during driving to make it more convenient and efficient, which also applies to internal combustion engines (ICE), hybrid electric vehicles (HEV), fully electric vehicles (BEV), and fuel cell electric vehicles (FCEV). It also has the ability to connect to the future 5G system after testing more than 6 million kilometers on roads and in 76 extreme environments to deliver an experience of driving that is safe, enjoyable, saves fuel, and is environmentally friendly.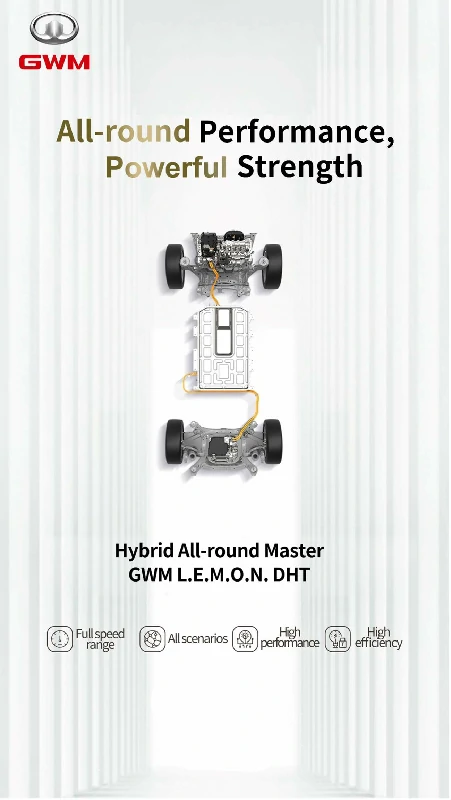 Vehicle development with such an intelligent platform is another important factor that has made Great Wall Motors electric vehicle products overwhelmingly received by consumers and media in many countries around the world, while L.E.M.O.N. DHT has received recognition for excellent performance in 5 aspects: performance, hybrid architecture, 4WD performance, energy consumption and driving range, and driving experience in the hybrid automotive industry with excellent comprehensive strength.
Brilliant hybrid technology is the key to the success of intelligent vehicle development.
Great Wall Motor designs, develops, and owns the intellectual property rights to the L.E.M.O.N Hybrid DHT Technology platform, which is the hybrid technology masterpiece of all Chinese automakers. The emergence of the L.E.M.O.N. DHT platform brings highly integrated hybrid technology using a dual-motor series-parallel connection structure in the system architecture, covering both HEV and PHEV models, including three powertrains: 1.5L + DHT115, 1.5T + DHT130, and 1.5T + DHT130 + P4, it is the source of success in terms of performance, intelligence, driving range, and many other aspects.
Essential elements built for a wide range of smart functions.
The L.E.M.O.N. DHT is one of the world's leading hybrid technology solutions ?Seven-in-one? that is highly efficient and supports a variety of driving styles. Compared to conventional fuel vehicle assembly systems, the L.E.M.O.N. DHT platform is smaller, lighter, and has higher power transmission efficiency. It is also superior in terms of noise level, vibration, and total reduced hardness. While the dual-motor series-parallel connection structure can intelligently control the system to switch driving modes and can work in tandem with high-performance hybrid engines to optimize power and fuel under different driving situations, the L.E.M.O.N. DHT stands out for its efficiency, power, and energy efficiency. It has a low failure rate and provides a longer driving distance.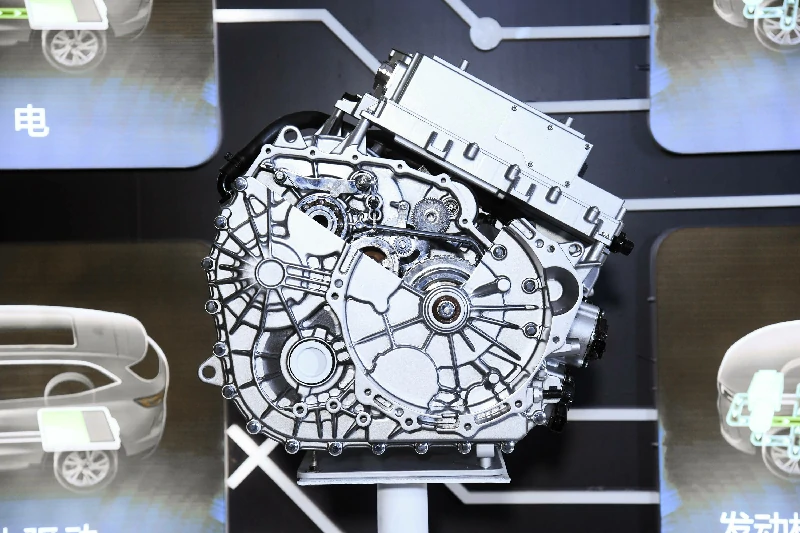 The L.E.M.O.N DHT is not only sporty and excellent in performance and range, but it is also one of the most outstanding platforms for functionality and intelligence. The intelligent thermal management system can also intelligently control the battery temperature according to the specific environment in each area to ensure that the battery power is used optimally. At the same time, intelligent single-pedal technology makes driving easier and more comfortable. The intelligent all-wheel drive system improves stability and peace of mind when handling the vehicle. Intelligent dynamic adjustment is possible from 0:100 to 100:0 to distribute torque to the front and rear axles for effective traction and enhanced vehicle handling stability. It reflects that L.E.M.O.N. DHT is the smartest hybrid technology that Great Wall Motors has ever created.
A meticulously designed "body" combines with the power of "intelligence" to create a hybrid solution that perfectly meets all needs.
The L.E.M.O.N DHT is a testament to the balance between superior performance and powerful capability at all speeds and in all situations through a series-parallel connection of high-performance hybrid engines and twin motors, delivering the best hybrid driving solutions and a seamless driving experience.
Use energy wisely for every driving style with the DHT Hybrid Powertrain.
The L.E.M.O.N. DHT selects the optimal driving mode and intelligent control system for each situation, for example:
When the car is completely parked or the engine is not running, the power consumption will be zero. The motor will respond again and start immediately when starting the engine.

During deceleration and braking, the system enters a power recovery mode for better energy efficiency.

For driving in the city, EV mode and engine mode are switched automatically. The engine will always continue to work at full efficiency.

When driving at medium speeds, EV mode, or direct-axle steering engine mode, is optimally selected. Then, when increasing the speed of driving, the system will select the saving mode immediately to save fuel.

During overtaking at medium speed or rapid acceleration, the engine drives the motor. The generator will use power and work together to the fullest. If overtaking at a high speed, the engine drive mode will be upgraded to have higher power to match the speed of the car.
Intelligent matching between power modes and various driving situations makes the L.E.M.O.N. DHT platform has an excellent balance between electricity and fuel efficiency, delivering a superior experience to car users.
Complete with numerous intelligent modes supports a variety of uses and a variety of road conditions.
It is equipped with superior power for greater driving comfort, including volume vibration and hardness (NVH), as well as better fuel efficiency than ever, making L.E.M.O.N. DHT is a platform that delivers a quality driving experience to consumers. In addition, it covers all dimensions in terms of speed, smoothness, quietness, and economy, including improved driving mode switching, which reduces fuel consumption but increases performance across the speed range and in every possible situation. Moreover, it is a patented intellectual property energy control strategy that enables a seamless switch between gasoline and electric power. Further, the sound level, vibration, and hardness have all been refined and enhanced to provide extra peace and quiet on the go.