It is now clear that the global vehicle trend is moving toward electric vehicles. It is also known as EV cars for their eco-friendliness and because they do not cause the combustion process that is a major cause of global warming. For this reason, it is common for electric cars to become one of the options for many people planning to buy a new car.
However, one of the issues many people still worry about with EVs is charging. This is because public charging stations are not covered enough. As a result, it may cause obstacles in actual use. Therefore, the best solution is to charge the electric car at home. And many question whether it will be a worthwhile investment or not. This article will clarify doubts. Follow us.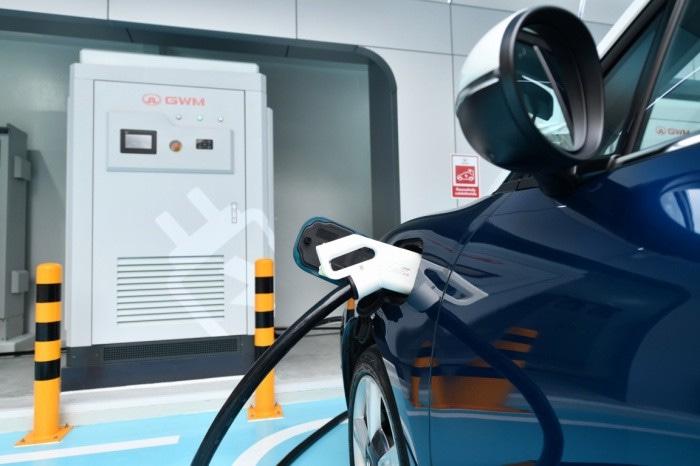 What do I need to prepare before installing an electric car charger at home?
If you decide that you want to buy an EV and want to install an electric car charger at home, the first thing to do is change the electric meter to a higher power of at least 30 amps (A), increase the size of the wires in the house to 25 square millimeters, and install a small circuit breaker (MCB) that is 100 amps (A) because charging an electric car at home requires a considerable higher power.
In addition, a circuit breaker should be installed (minimum 40 amps are recommended) for 1 channel in the Main Distribution Board (MDB) for isolation when using other electrical appliances. Also, a Residual Current Device (RCD) should be installed to prevent short circuits in the In the event of a short circuit, use the EV socket to plug the car charger adapter into each vehicle's plug. Finally, for safety, the wiring circuit of the home electric vehicle charging point for the EV must be isolated. It should only be installed by a qualified electrician.
Budget for installing an electric car charger at home
The biggest cost of installing an electric car charger at home is the cost of the charger, which varies from brand to brand. Including the size of the required power that should be used in accordance with the On Board Charger of each car model, the price of the EV charger
In the Thai market, it ranges from 30,000 baht to 80,000 baht, and the maximum may be in the top hundred thousand, so you should consider carefully before making a decision to make this investment worth the most.

In addition to the EV charger, another cost you have to pay if you want to install an electric car charger at home is the meter replacement fee, which must be paid to the electricity utilities that come to perform the change. The price will be 700–2,500 baht, including the cost of wiring and circuit breakers that may have to be purchased new to accommodate the increased power.
How long does it take the Ora Good Cat to charge at home?
Definitely, each model of electric car and each brand of EV charger will vary in terms of battery capacity, including electric charging speed. For this reason, the time to fully charge the battery is not fixed. However, we would like to take, for example, the Ora Good Cat, which will charge as follows:
? Normal home charging or Alternating Current (AC) charging via the GWM HOME CHARGER takes 8–10 hours.
? Fast charging or Direct Current (DC) charging stations, for example, the G-Charge Supercharging Station, EA Anywhere, or Pea, will charge from 0 – 80% in about 45 – 60 minutes.
Note: Time spent charging depends on battery capacity and charging stations available.
How often should the Ora Good Cat electric car be charged at home?
One of the key considerations for many people when opting to purchase an EV is the frequency of charging, which can be determined by dividing the battery's full charge distance by the typical daily running distance. Around 450–500 kilometers can be covered by the Ora Good Cat 500 Ultra per charge. (Subject to driving conditions and environment) Therefore, if you typically drive 30 kilometers per day, you might charge your electric car at home once every two weeks.
Compared to fuel costs, EV charging is significantly less expensive. The typical cost of petrol is 1.50–3 baht/km, and the typical cost of EV charging is 0.26–0.50 baht/km.
If you're seeking the ideal electric vehicle, you must visit GWM AMORN Ratchada. 
Special for customers who buy Ora Good Cat electric cars at GWM AMORN Ratchada showrooms, you will receive a GWM HOME CHARGER worth 60,000 baht with a 2-year warranty, and you will receive other accessories such as consumer cabinets, circuit breakers, residual current circuit breakers (RCBs), cables, and grounding rods installed by a team of experienced technicians from Evolt. All of the above is FREE. There is no cost whatsoever.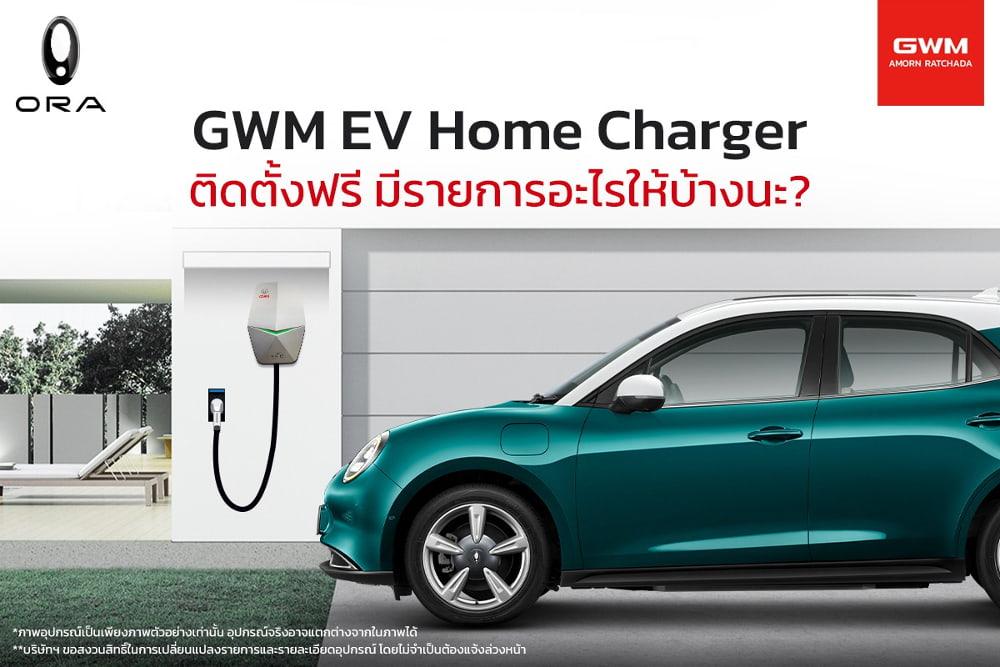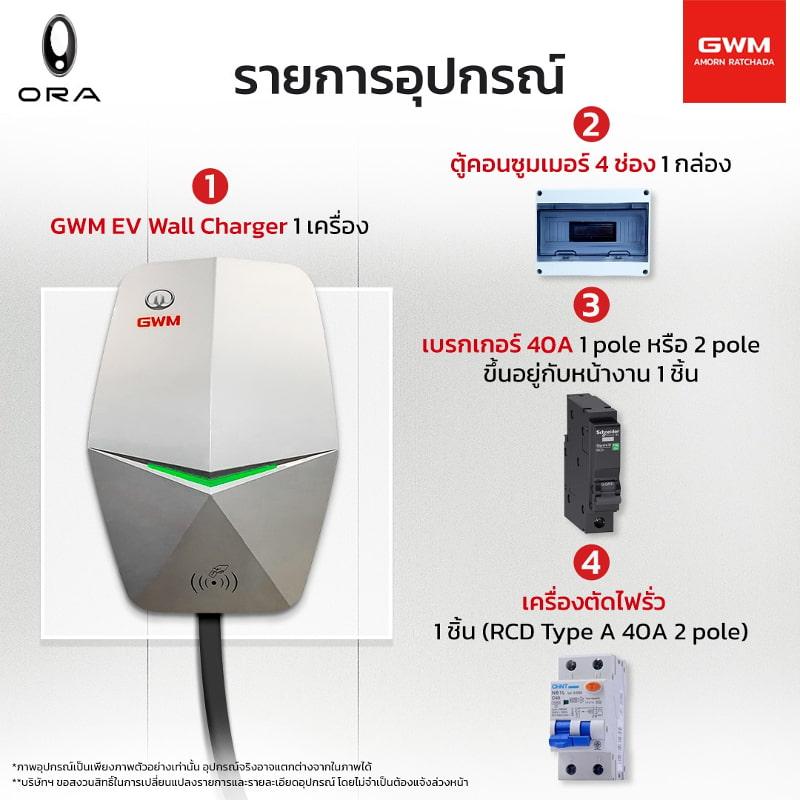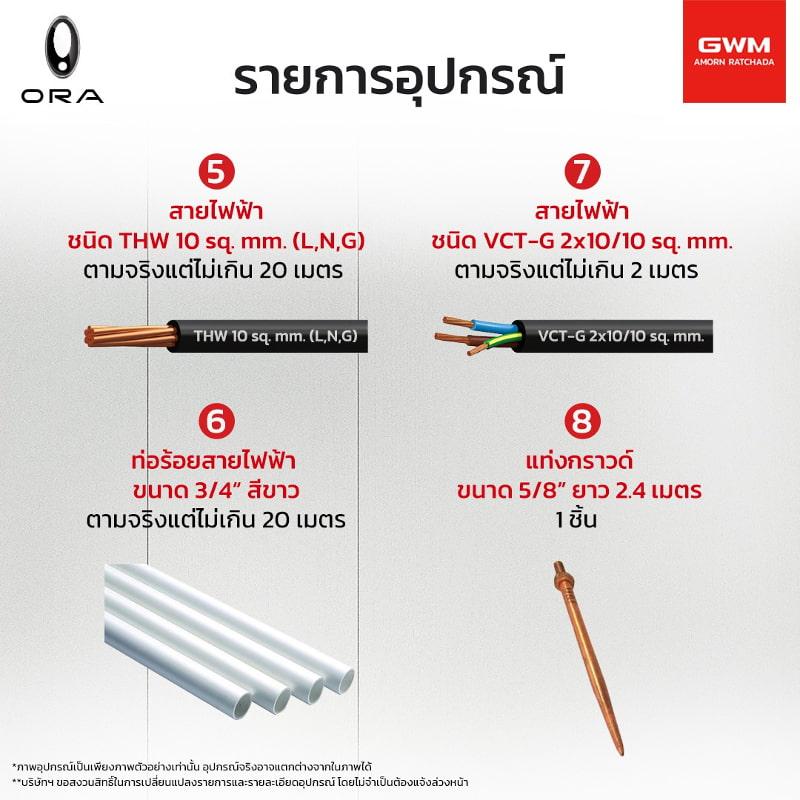 List of Equipment 
GWM EV Wall Charger

, 1 box

Consumer cabinet: 4 channels

, 1 box

Breaker 40A 1 pole or 2 poles, depending on site

, 1 piece

Residual Current Circuit Breaker

, 1 piece (RCD Type A, 40A, 2 poles)

Electric wire type THW 10 sq. mm.

(L,N,G) actual distance, but not more than 20 meters

Electric conduit, size 3/4″ white

, actual distance, but not more than 20 meters

Electric cable type VCT-G, 2×10/10 sq. mm

. actual distance, but not more than 2 meters.

Ground rod, size 5/8", length 2.4 m.

, 1 piece
List of Service
1.Service to survey the area before installing the charger 1 time
2.Charger and installation warranty for 2 years
3.Maintenance service (during the charger warranty period) 2 times
In addition, GWM electric cars like the Ora Good Cat, at our showroom there are also other GWM cars to experience and test drive in a variety of models, such as the Haval H6, Haval Jolion, and plug-in hybrids that are currently trending, like the Haval H6 PHEV. There is also a real car to experience, which you can come to see and experience the technology and performance of GWM cars with a test drive service at the GWM Amorn Ratchada. For those who are interested or want to ask for more information, you can be contacted at Sales Department: 02-5138000 or Service Department: 02-5138800, including our online channels.
Facebook Fanpage : GWM AMORN Ratchada
Line Official : @gwmamornratchada