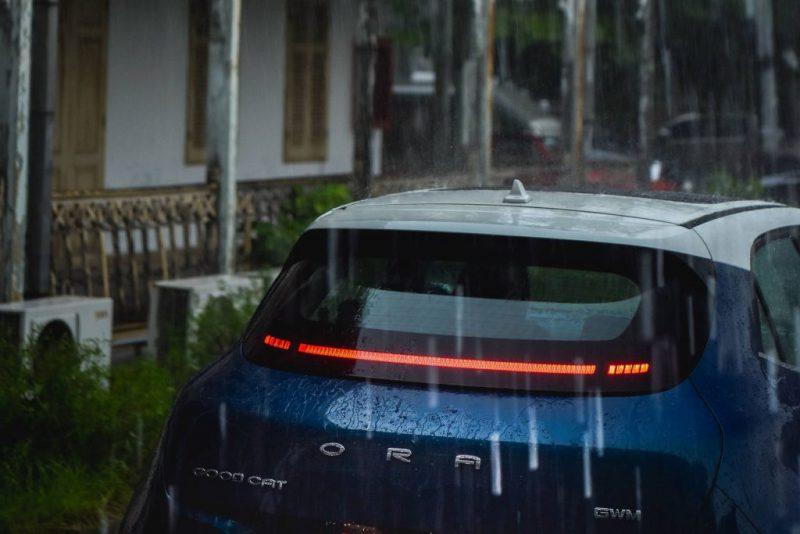 During the rainy season in Thailand, many people may be worried about whether the electric cars that are currently popular will be able to be used safely on Thai roads or not. On the way to the driveway, you may encounter waterlogging waiting to be drained. Or is it possible to charge the car while it's raining? So I, Great Wall Motor, the leader in electric vehicles that provides world-class intelligent technology, would like to answer a question that many people are curious about with recommendations to maintain a 100% electric car for those who have just bought it, including those interested in owning a clean energy vehicle, which will make you understand that electric cars can be driven safely and are easier to maintain than you think.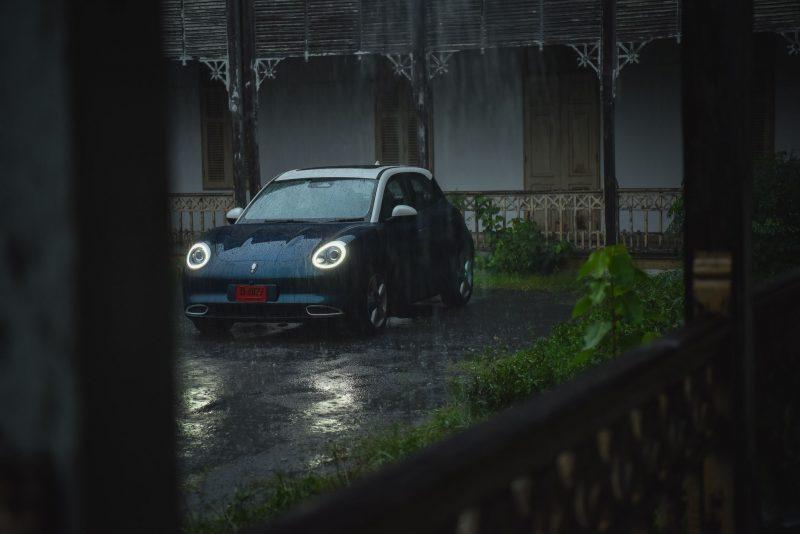 Electric cars can be used normally during the rain
In the rain and thunder, some people may not dare to use electrical equipment and may be worried that the use of electric cars must not be exposed to water. But in fact, electric cars can be used normally even in the rain because motors, batteries, and electrical connections are well protected by electrical insulators, including a sensor to detect electric leakage and a ground fault protection system that ensures safety.

For driving in the rain, you must be careful, which is not different from driving an internal combustion engine. For example, you should drive at a speed suitable for road conditions in order to control the car on slippery roads and maintain a distance from the car in front than usual GREAT WALL MOTOR's 100% electric vehicle, the ORA Good Cat, has Emergency Braking Assist on straights and intersections to increase driving safety. It supports 5 aspects of electrical safety: protection against water, corrosion, collision, shock, and fire. If there is a collision that affects the battery, the car will turn off within 50 milliseconds for safety. Moreover, it has good temperature and cooling control. This also prevents spontaneous combustion of the battery.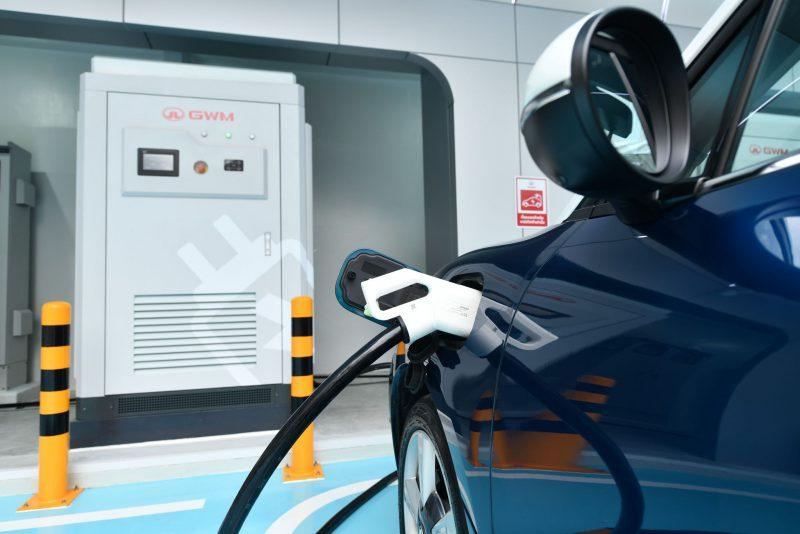 Worry-free charging your electric car in the rain
Currently, there are many charging stations scattered across the country that are ready to facilitate electric vehicle users convenient charging of their vehicles in both DC and AC formats. For Great Wall Motors, there are DC fast charging stations, or G-Charge Supercharging Stations, at Siam Square, Soi 7, with plans to expand charging points to 55 locations across the country this year.
Chargers from many companies are well designed as standard and have a protective system or cover that can have openings to drain water. Even during the rain or when there is water at the outlet, you can be confident that there will be no water trapped in the charge head area. This includes installing a leakage protection system and grounding as well. In addition, most cars have a waterproof seal that can prevent dust and splashing water. This will help prevent rainwater from splashing into the charging terminal as well, including a sensor system that will cut off the power immediately if a leakage of current is found in the circuit. However, users can increase safety by inspecting the charging station, charger head, and wires every time before charging, whether they are in perfect condition or not, including wiping and cleaning the charging point to dry before closing the lid.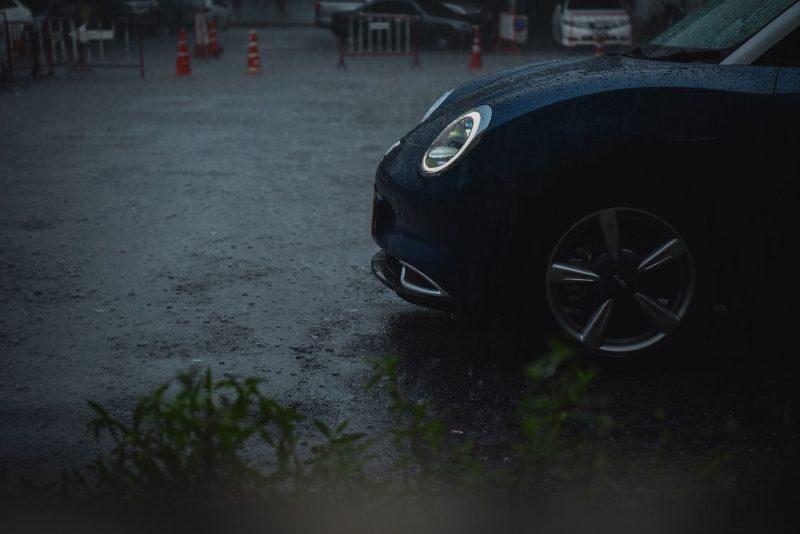 Electric vehicles can still be driven safely during floods
When it rains heavily, the problem of flooding makes life difficult for all road users because being stuck in a car makes you frustrated, and you still worry about whether the flood will cause the car to stop working or not, especially 100% electric cars that are still considered newcomers to the challenging roads in Thailand, including installing the battery under the car that can immediately touch the water. However, please be assured that electric vehicles can be driven safely in flooded conditions because the system in the car is well protected and prevents unfamiliar matter from entering the system.

In addition, electric cars are tested for IP Rating (Ingress Protection), which is a standard value for protection against solid objects and liquids entering the car. The standard for electric cars is generally IP67, guaranteed to be able to prevent damage from flooding up to 1 meter in less than 30 minutes. ORA Good Cat uses batteries that are also IP67-rated, which are waterproof from immersion in water up to a depth of 1 meter for up to 30 minutes, can also drive through water up to 40 centimeters deep, and are also completely dust-resistant.
However, if it is necessary to drive while flooding occurs, users should be more careful, drive slowly at low speeds, watch out for obstacles in the road, such as sticks or rocks, which can damage the battery, and try not to leave the car parked for a long time. After driving through water at high levels and for a long time, owners can take the car to the service center to have it checked to increase confidence in its use. In addition, the owners should study the manual of the electric car well to see how much unfamiliar material can be avoided so that they can use the car to its full potential.
For electric car users at Great Wall Motor, you can still be confident in every drive because the quality of products that meet international standards enhances the service experience, including listening to the voice of consumers all the time to provide maximum satisfaction to users. Every new car purchased from Great Wall Motors comes with a quality warranty for 5 years or 150,000 kilometers*, as well as an EV battery warranty for 8 years or 180,000 kilometers*. There is also an emergency assistance service via the GWM application 24 hours a day for 5 years*, where a professional team is ready to help at the scene within 1 hour, or you can contact the officers through the GWM Contact Center at tel. 02-668-8888 as well. If you want to make an appointment with a team from the GWM Service Center to visit the destination, you can make an appointment for Mobile Service* through the Partner Store or GWM Contact Center at least 2 business days in advance.