Combining all the great features on the GWM Application to complete both the driving experience and lifestyle makes life easier than ever.
The use of various applications has become one of the activities that consumers use widely today. Many brands are developing application features to meet the diverse needs of consumers. Great Wall Motor, as a "Global Technology-Driven Service Company," has developed the GWM Application as another channel to help connect the O2O (online-to-offline) experience in accessing information, services, events, and transactions, including being an online space to share stories and exchange experiences with each other through easy, convenient, and able to fully meet the needs of consumers.
Let every step of owning a car from Great Wall Motors be easy and convenient for you.
After opening the GWM application for download last March during the 42nd Bangkok International Motor Show as another channel to help facilitate customers and those interested in updating news and providing various services from Great Wall Motor, the GWM Application has been developed. Features and functionality are constantly increasing to meet customer needs and provide important information that will be of the utmost benefit to customers. In addition to features that allow customers to view car details, book a test drive, and trade cars, the GWM Application also has other features. That makes owning a car from Great Wall Motors easy and convenient.
Financial Calculator: Calculate installments easily at your fingertips.
Buying a car may not be an easy decision for many people because it is a must-have expense.
For long-term planning, if the customer wants to get a quotation with an installment schedule for comparison, he or she must contact the salesperson at each dealer directly. But this problem will disappear when Great Wall Motors introduces "One Price", which is a continuation of the special policy that customers can conveniently check prices, calculate, and plan installment payments in the feature. Financial advisors on the GWM application are able to choose participating financial institutions according to their needs and are ready to immediately calculate the amount of the down payment and monthly installments they want to pay. The application will display the result as a total down payment and financing amount.
The interest rate and the amount of monthly installments according to the needs of each person help people who are interested in calculating and planning their finances for buying a car buy a car faster and more conveniently.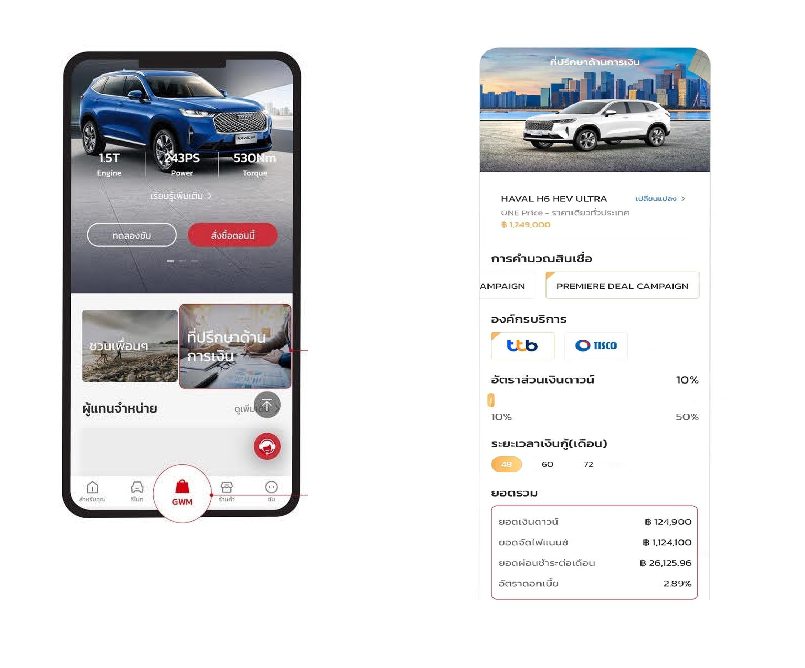 Vehicle Telematics Remote: Use your car intelligently with remote commands.
Owners of Great Wall Motors can live more conveniently and intelligently with the remote feature, which allows them to operate from a distance and check various statuses of the car easily in real time through the GWM application, such as checking the location of the car and determining the extent to which the vehicle can be used, including checking the status of maintenance such as the amount of fuel, driving distance, and air pressure. In addition, it can be controlled and operated remotely, as if sitting in a car, including controlling the air conditioning system, which can be ordered to turn on the air conditioner at the desired temperature before getting into the car, and ordering to lock and unlock the car. Moreover, there is a system to help find cars if you forget to park, a system to open and close the rear door of the car, a system to close all 4 car windows, including the sunroof, a system to open and close the ventilation system of the front passenger seat freely, and a temperature control system inside the cabin that can work automatically when the temperature reaches a preset point, etc., making it easy to check information and control the car even at a distance from the car.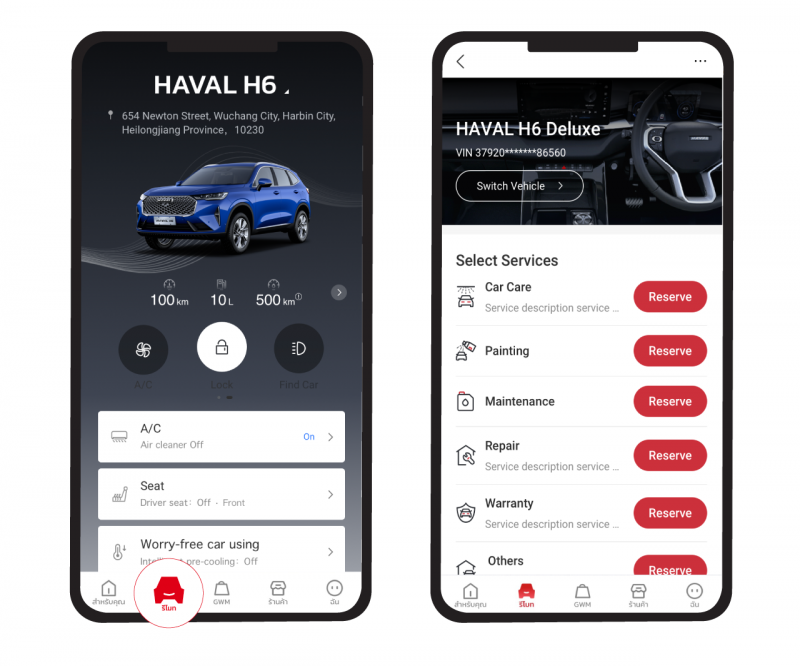 Test drive and delivery satisfaction survey: Customer satisfaction is the most important thing.
Great Wall Motor adheres to a business strategy that places the customer at the center (Customer-Centric). The test drive and delivery satisfaction survey feature allows customers or interested parties to submit comments and assess their satisfaction with the service immediately after the test drive or delivery of the car is completed. The assessment will be sent to the customer in the GWM application automatically, helping to make the assessment faster and more convenient. Every opinion and assessment result will be used to develop and improve the work to be able to deliver the products and services that provide the most impressive customer experience.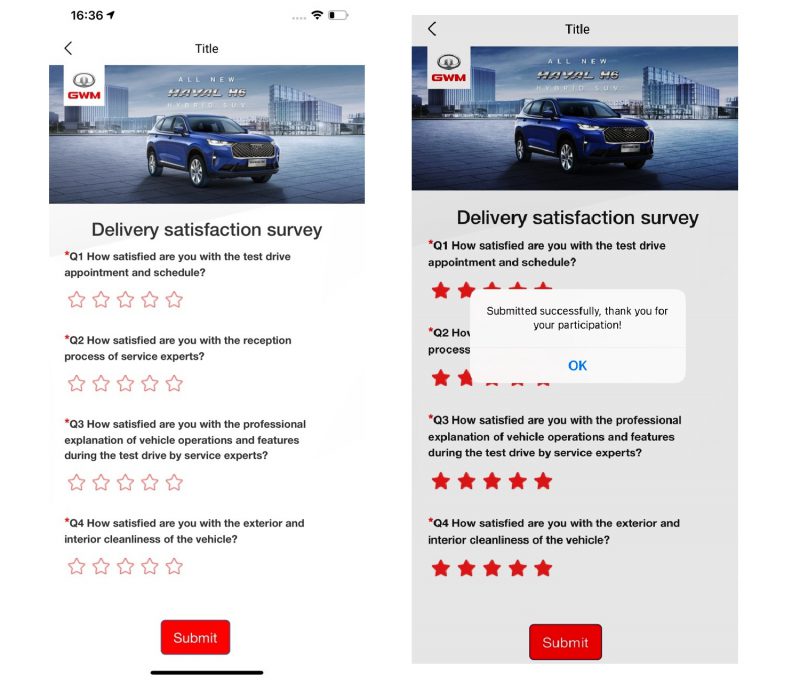 More than just a car application, it is packed with many features that are ready to fulfill every lifestyle.
The GWM Application not only has features and functions to facilitate customers in providing various services about cars, but it is also another online community space for customers and interested parties to share stories and fulfill various lifestyle experiences.
For you to discover an online community of interested people and real users.
The feature "For You" on the GWM Application opens a new dimension to creating an online community area for interested people or real car owners to update news and share interesting stories freely. You can find the most popular posts of the day in the "Top Hits" tab, which are often the posts that get the most attention, so you don't miss out on the top stories of the day. You can also update news information from Great Wall Motors in the news tab, or update movements, reviews, or share experiences. From the real car owner or those who have interesting information in the bar "Latest", readers from each post or review will be awarded 1 GWM Point per like. You can join in the fun and collect points from various activities held in the application in the "Activities" tab so that you do not miss any special activities from Great Wall Motor, including knowledge about additional applications to help complete the user experience to the fullest.

 Friends get friends: Get unlimited points when you just invite a friend to a Haval H6 test drive.
Special features that allow you to invite friends or people around you to join in for a test drive or buy a car by the feature "Invite friends" will give a GWM Point to the inviter immediately 2,000 points when successfully inviting a friend to take a test drive. Your friend will receive 200 GWM points as well. And especially for those who own the ALL NEW HAVAL H6 Hybrid SUV, if inviting friends to be able to make a successful purchase decision, invited car owners will receive 30,000 points immediately. And a friend who decides to buy will receive 25,000 GWM Points. Each car owner can fully invite friends and will be able to earn up to 90,000 points per month. This is another outstanding feature that allows both customers and friends to receive benefits at the same time.
TH: เกรท วอลล์ มอเตอร์ ยังคงเดินหน้าพัฒนาฟีเจอร์และฟังก์ชั่นการใช้งานใหม่ๆ ให้กับ?GWM Application?เพื่อให้สามารถส่งมอบผลิตภัณฑ์และการบริการอันยอดเยี่ยมและสะดวกสบาย รวมไปถึงการสร้างพื้นที่ชุมชนออนไลน์เพื่อแบ่งปันเรื่องราวและประสบการณ์ดีๆ ระหว่างกันต่อไป สำหรับใครที่ยังไม่ได้ดาวน์โหลด?GWM Application?สามารถดาวน์โหลดได้ที่
ENG: Great Wall Motor continues to develop new features and functions for the "GWM Application" in order to deliver excellent and convenient products and services, including creating an online community area to share good stories and experiences with each other. For those who haven't downloaded yet, the GWM application can be downloaded at