Great Wall Motor thanks for the warm response from Thai people towards the All New HAVAL H6 Hybrid SUV, ready to walk alongside Thai people during the current situation. By announcing the extension of the PREMIERE DEAL campaign for another 1 month, offering great value for money with special offers for customers from August 1, 2021 – August 31, 2021, confirming to continue delivering intelligent cars that are full of superior driving experiences. and comprehensive after-sales service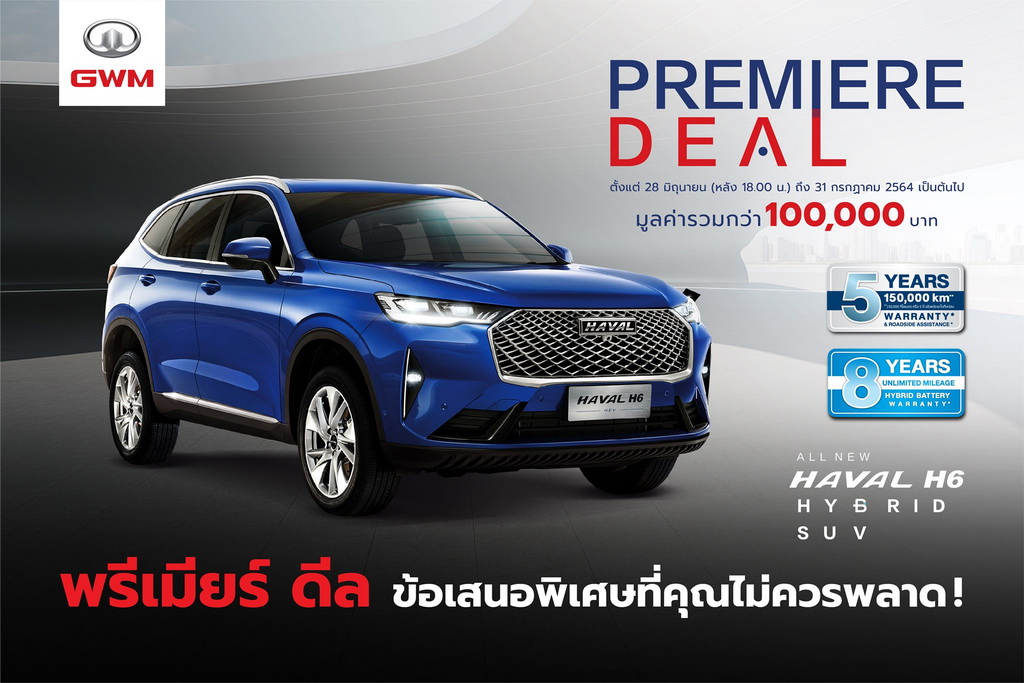 Great Wall Motor has officially launched the All New HAVAL H6 Hybrid SUV in Thailand on June 28, with the PREMIERE DEAL campaign packed with special offers worth more than 100,000 baht for those who Car booking after the launch from June 28, 2021 (18:00 hrs. onwards) ? July 31, 2021, which has received great feedback from Thai people. Both the number of car test appointments and the overwhelming number of bookings Including the number of customers who gradually own the All New HAVAL H6 Hybrid SUV. However, due to the current situation of the COVID-19 epidemic, as well as the announcement of the elevation of control measures from the Epidemic Management Committee of the Coronavirus Disease 2019 (Covid-19) or CCP, since July 20, Great Wall Motors has realized and realized that the safety of its customers is paramount. And understands the inconvenience of many customers who want to test cars and carry out transactions from buying a car to delivering a car that is safe for customers. As a thank you for your warm welcome and to provide maximum convenience to our customers, Great Wall Motors would like to announce the extension of the PREMIERE DEAL campaign from June 28, 2021 (18:00) to July 31, 2021. Another month, starting from August 1, 2021 ? August 31, 2021, where customers can reserve a car and receive privileges with full conditions under the original campaign in all respects.
For the PREMIERE DEAL campaign, it comes with a special interest rate of 1.79% for up to 48 months, free first-class insurance, 1 full year, maintenance package GWM PRO Service Inclusive (GPSI) 5 years or 100,000 kilometers, 15,00 GWM Point reward points, free services. Delivering cars across the country with a full tank of gas and many other privileges, totaling over 100,000 baht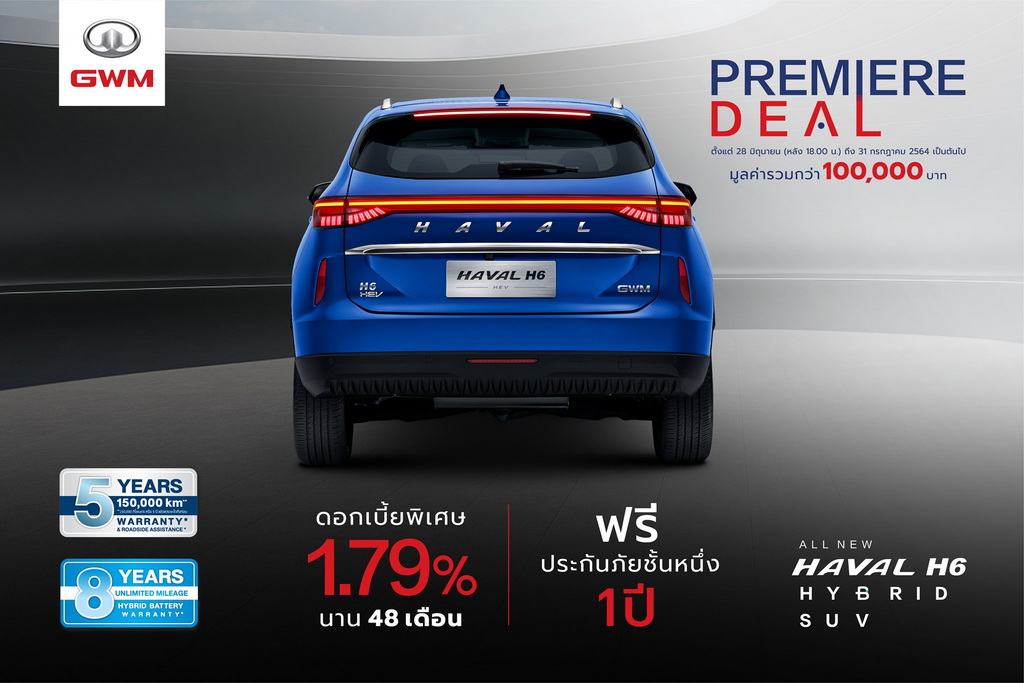 In addition, Great Wall Motor has previously announced an extension of the payment period for customers in the ULTRA DEAL campaign, a special campaign to register and reserve the right to buy the All New HAVAL H6 Hybrid SUV at Great Wall. All Motors was organized to thank the first customers for their trust in the brand and the product before the official price announcement. with a total campaign value of more than 200,000 baht by eligible customers The reservation must be paid by August 15, 2021 and the car must be released by October 31, 2021 to maintain the privilege.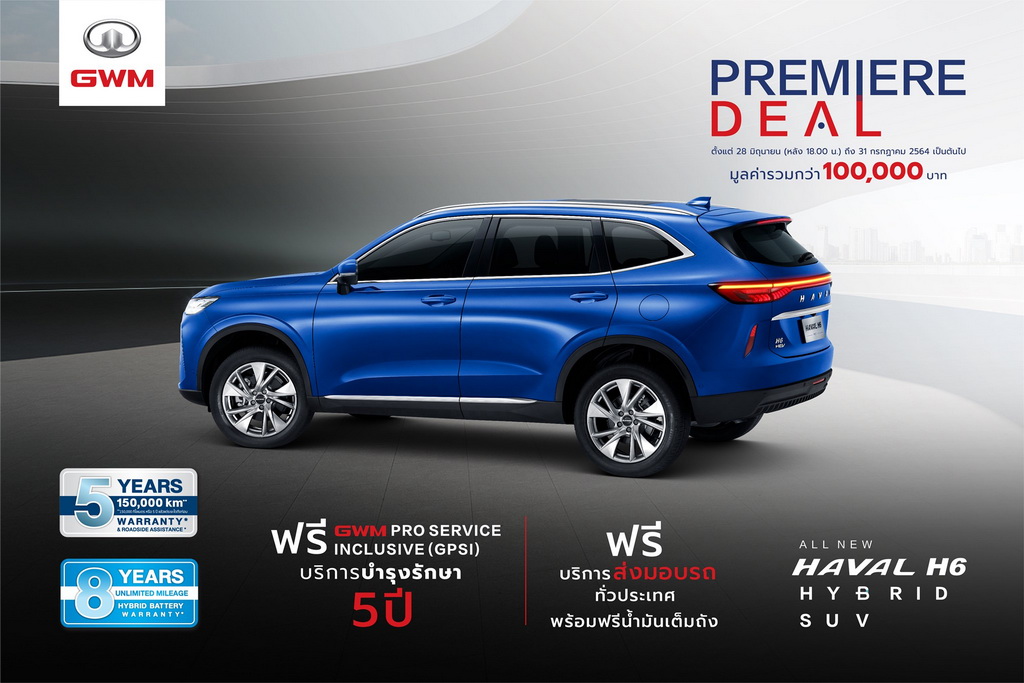 After starting deliveries to the first group of customers on July 1, Great Wall Motors continues to deliver the All New HAVAL H6 Hybrid SUV. Whether it is delivered at GWM Store and Partner Store in all 7 branches across the country (Charansanitwong branch, Rama 5 branch, Udomsuk branch, Chiang Mai branch, Khon Kaen branch, Phuket branch, Sriracha branch, Chonburi branch) including delivery of the car to the front of the customer's house. Door-to-Door Delivery, a new experience at Great Wall Motors aims to increase convenience and provide the best experience for our customers.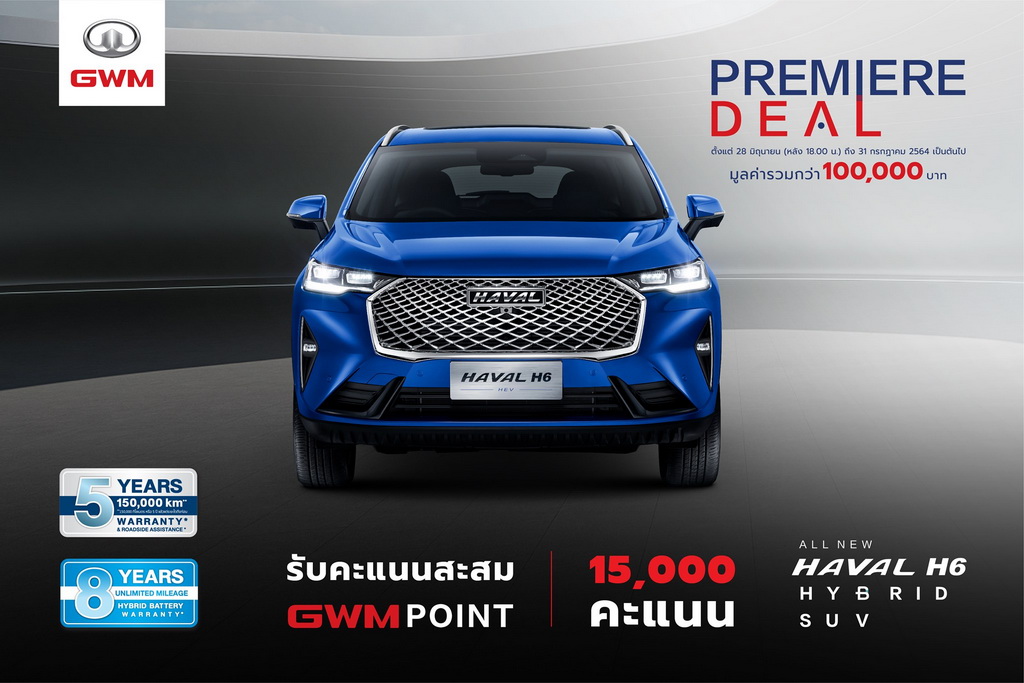 The All New HAVAL H6 Hybrid SUV is powered by a 1.5-turbo/liter engine that comes with a Variable Turbo (VGT) system that works with an electric motor. It delivers a maximum total power of 243 horsepower, a maximum total torque of 530 Nm and a DHT (Dedicated Hybrid Transmission) transmission that optimizes fuel efficiency and has the least impact on the environment. with a fuel consumption rate of 19.2 kilometers per liter (Based on the international standard car information sign system (ECO Sticker)) packed with cutting-edge intelligent driving technology under the concept LIFE+, an intelligent system that meets the needs of driving in every route. ready to deliver a fun and safe experience Comfortable with the size of the car and the cabin is larger compared to the car in the same class. with spacious luggage storage space, convenient to meet all lifestyles of everyone in the family perfectly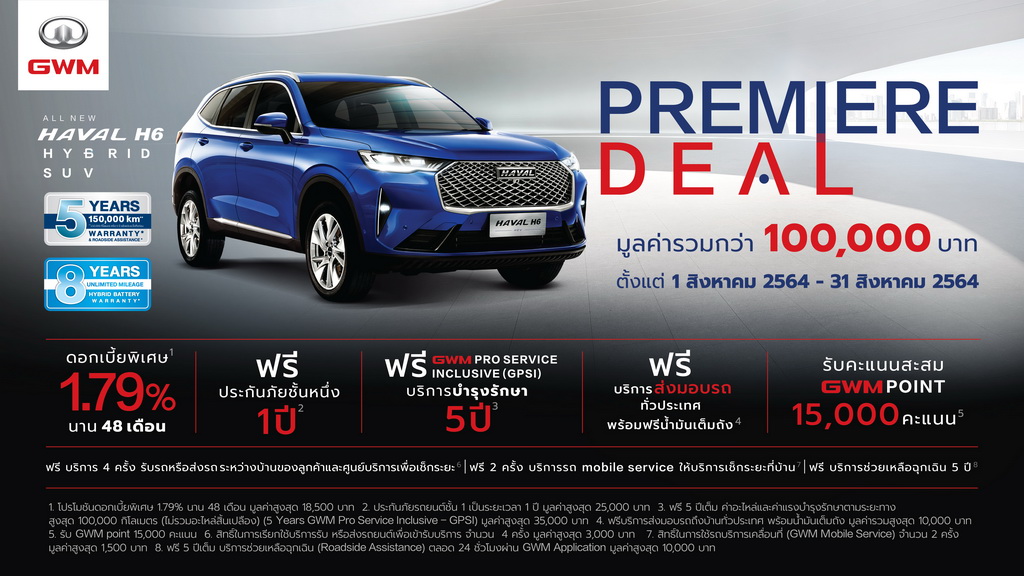 All New HAVAL H6 Hybrid SUV has 2 sub-models: ULTRA model priced at 1,249,000 baht and PRO model priced at 1,149,000 baht, which is the price of "ONE PRICE", the same price in all distribution channels, which both models also come with a quality guarantee. The vehicle and emergency services (Factory Warranty & Roadside Assistance) that will make customers worry about using the car and taking care of it in the long term. It covers a period of 5 years or 150,000 km of mileage and a full 8-year unlimited battery warranty.
Great Wall Motors, as a ?Global Mobility Technology Company?, reinforces its commitment to deliver new products and services under the Con brand. concepts of ?New Energy?, ?New Intelligence? and ?New Experience? and ready to walk alongside Thai people in every situation with determination to deliver the best products and services to all Thai people.
---