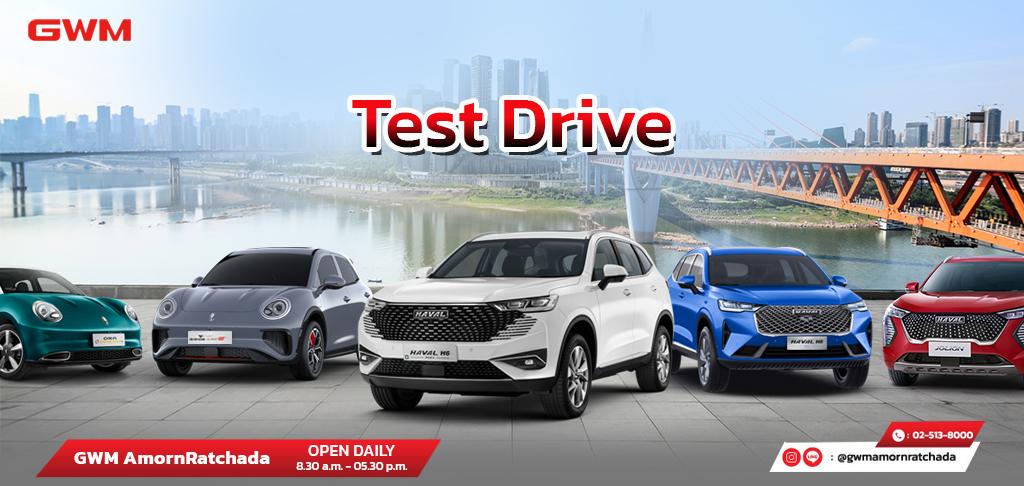 Test drive all GWM Models
GWM Amorn Ratchada is ready for you to test drive all models of GWM cars today! Just fill out the information form below to register an appointment with GWM Amorn Ratchada, you can test drive the desired model according to the date and time that you have registered for the appointment!
GWM SUVs come with a variety of functions and complete performance. Many people would say in the same voice that the Haval H6, a C-SUV type car, is one of the cars that meet the needs of the new generation's daily life with a modern image and design. It also comes with the comfort of the cabin with advanced technology and security systems to let both drivers and passengers feel at ease every time throughout the journey. If you are interested and want to test drive the Haval H6, both the Pro and Ultra models, how much can you use? You can register to test drive the Haval H6 today.
If you are interested in taking a test drive of the new Haval Jolion, the newest SUV that can obey every lifestyle of the new generation and comes with a hybrid system of the future, state-of-the-art technology functions. Moreover, it is also environmentally friendly because it saves more fuel. For anyone who likes cars with a sleek design, the Haval Jolion comes with the distinction you want, which embodies the premium blended with sporty modernity perfectly. There are 5 colors to choose from, including Sun Black, Swarovski Blue, Ayers Grey, Red, and Hamilton White, with LED headlights, turn signals, and brake lights to increase safety for every drive.
The response is better than expected, ORA Good Cat, an electric car that is ready to please all cat people with a cute, compact, playful design. On top of that, there are a variety of colors to choose from, which meets the needs of new drivers, especially young teenagers and working people. It is 100% electric power with front wheel drive ready to support both normal household alternating charging  (AC) charging and fast charging with direct current (DC). If any young woman or man is interested in a cute design electric car like ORA Good Cat, then they can register for a test drive with GWM Amorn Ratchada at the form below with many privileges.
Register for a test drive with GWM Amorn Ratchada
With the GWM Amorn Ratchada, you may test drive all GWM vehicles, including the Haval H6, Haval Jolion, and ORA Good Cat, before anybody else. In order to give you confidence when buying a car, we are prepared for you to test drive the vehicle of your dreams and to offer advice and information about all models of vehicles in the GWM group. So that you can, as needed, feel the driving performance and true design of the car. You can also call